EDM Challenge #216: My Inner Critic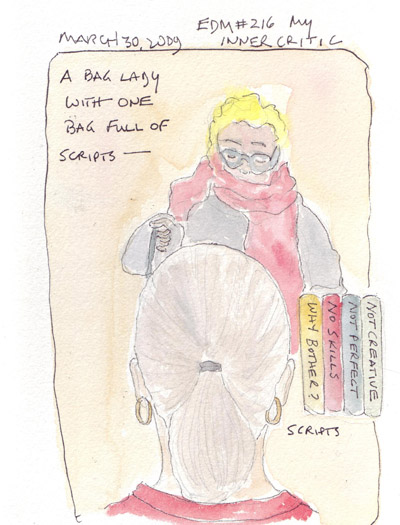 This is ME with my Internal Critic pictured in front of my "right brain." I tried to assign a particular human form to my internal critic, but I know that it is just a piece of me that I need to deal with. I feel as if I'm fooling myself when I try to create a person to blame.
My critic likes perfection and can make me unhappy every time I make mistakes. This puts emphasis on product, not process, and I have to remind myself over and over that "play" is an important component of creativity, and perfection should NOT be my goal. Mistakes are a wonderful opportunity for growth to occur.
I also deal regularly with "fear of failure" and it is sometimes strong enough to keep me from trying something new. I think that working small, in a sketchbook, and everyday helps me overcome some of the doubt. But I have to really work hard to step out of my comfort zone and create tricks to get past the Internal Critic in my brain.
What does my Internal Critic look like? Half of my brain? A really small part of my brain? If so, where? Maybe I should have sketched a really small person and put her on my head - as if she were in my brain. When I try to picture her, I see a "bag lady" if I see anything - someone with an incredible number of opinions but no creativity, passions, skills or products of her own - just a mouth, thick frame glasses, and a bag of scripts. The major scripts that she repeats over and over are the ones listed above.
I really haven't made much progress changing my perception of my creative abilities. I've read enough about creativity, the origin of creative ideas, and how to stimulate creativity - so I am developing skills to deal with my critic. And every once and a great while I do something that even I feel is original.