More Figure Drawing Practice
I periodically practice figure drawing in preparation for the time after my retirement this summer when I can go to a drop-in figrue drawing class at one of the many sites available here in New York City.
I set the time on Pose Maniacs for 90 seconds and sketched the following 5 figures. I try each one that appears although some of their figure positions are so wierd that I can only imagine how a real body could achieve it. They were sketched in watercolor pencil and finished with a watercolor wash.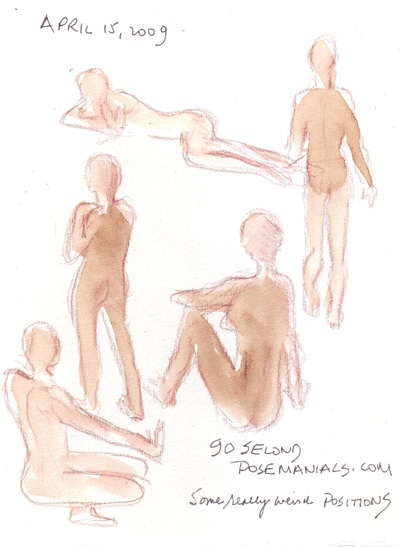 I also have Mark Smith's book of nude photos for artists and had my husband select some photos and put "stickies" on them. I then set my timer for 5 minutes, opened to the first sticky, and did a 5 minute sketch of the figure in watercolor pencil. I then quickly brushed them with water in a Niji waterbrush.