EDM Challenge #219 and Sketchcrawl Today
EDM Challenge # 219: Draw a Window
Today several of us who met in Danny Gregory's class had another sketchcrawl in New York City. We met in Grand Central Station and while I waited for them I sketched a ticket window for this week's Everyday Matters Challenge.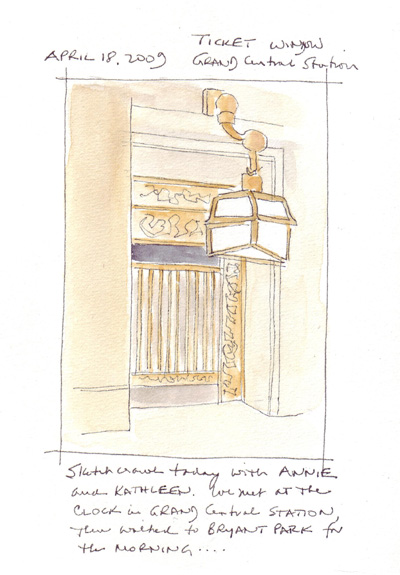 The weather was wonderful, so we walked over to Bryant Park, behind the New York Public Library, and thoroughly enjoyed the wonderful flowers that were all in bloom, and the hundreds of chairs that are set up around the park for all to enjoy this fabulous area. There were thousands of tulips, daffodils, pansies and hyacinths in flower beds and urns. I was immediately drawn to the beds of pink tulips.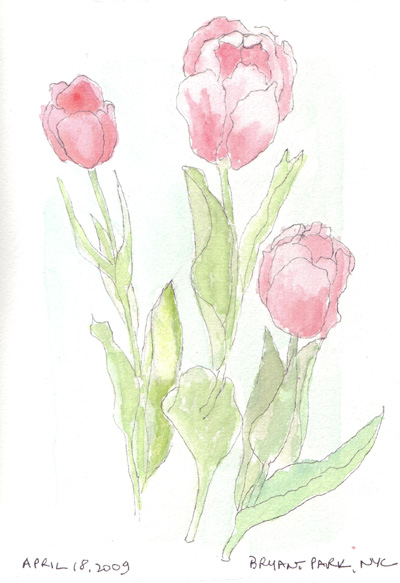 The Empire State building is visible above buildings on 41st St from the Park and we all did a sketch of the view. In my sketch it is impossible to realize how tall it is behind the foreground buildings and trees. I'll have to return to the scene and try again someday.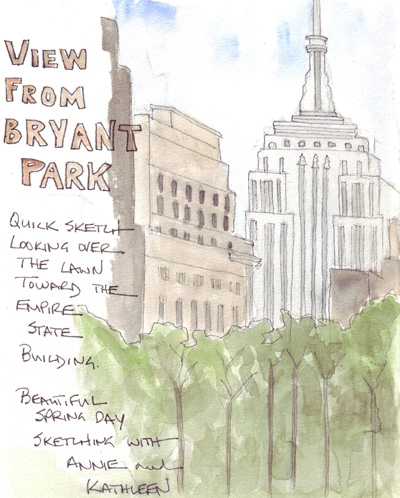 I ended the morning sitting in front more flowers - to document again the joy of sketching in the sun, on a warm Spring day, enjoying the company of Annie and Kathleen and surrounded by flowers in this fabulous urban setting.