MiniSketchcrawl at the Met
This morning I met 5 wonderful women, who all like to sketch, draw, and paint, for our first group sketchcrawl. I met Susan in a watercolor bookbinding class. I met Kathleen, Jane, and Annie in Danny Gregory's Visual Journaling class this fall, and I met Deborah through the Everyday Matters group.
We spent the first hour in the Greek and Roman galleries where I sketched the head of a Hercules statue from 68=79 AD. Although it can't be seen very well, he has a lion's face on his head and the rest of the lion skin draped and tied over his shoulders.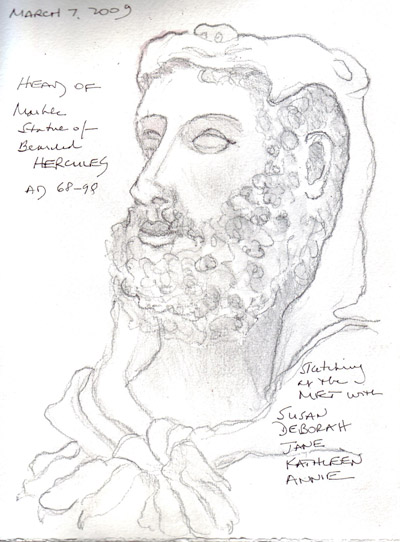 We then moved to the current Drawing Exhibit for the next hour and I sketched from 2 Delacroix Moroccan drawings and a reclining nude by La Fosse.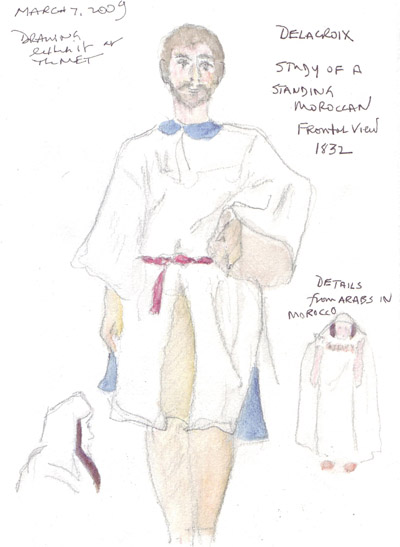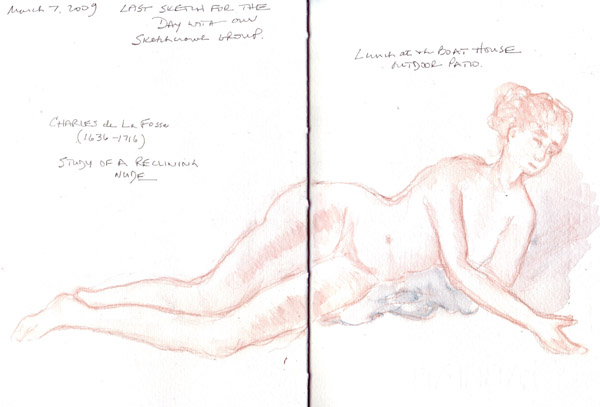 The black line is the gap between the signatures in the watercolor journal I made - and even intensive glueing of the spine and tight stitching doesn't prevent it.
All of the drawings were made with a combination of light wash graphite and Albrecht Durer watercolor pencils. They are my solution for only being able to sketch with pencil at the Met.
We finished with a leisurely lunch at the Central Park Boat House patio restaurant because it was such a warm, sunny day in New York City. We were a very excited and compatible group and decided over lunch that we would meet monthly - to sketch and share some blogging, bookbinding, and art skills and resources.