New Sketchbook Pages Uploaded
I still haven't seen a baked potato or rope in my world, so I'm uploading a few sketchbook pages instead of catching up with EDM challenges.
Our Book Group read Moveable Feast - and I found my old copy which I read in 1988. The wine glass is for the amount consumed by Hemingway and his friends in the "Lost Generation" and the wine that I drank during our discussion.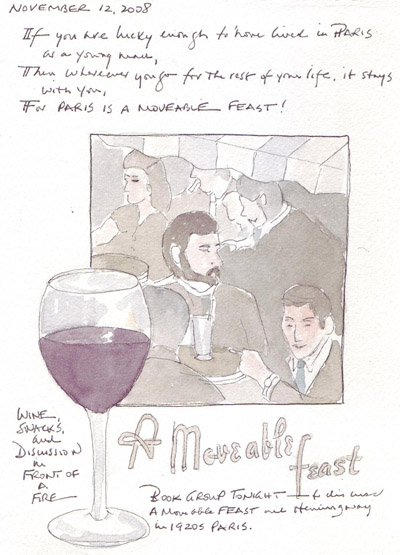 I crawled into bed at 10:45 and still wanted to fill a journal page - so my rocker next to the bed became my focus.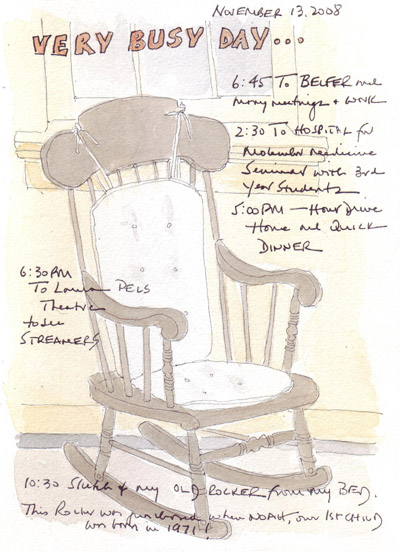 After a full day with my two 3 year old grandchildren, I sat quietly in my usual evening seat and painted the view in the room that I love. During the year that my daughter and her family lived in London, my husband and I decided to combine all Christmas, birthday, and anniversary presents to each other and bring home this lovely sculpture of a young woman reading a book. She remains very precious to me.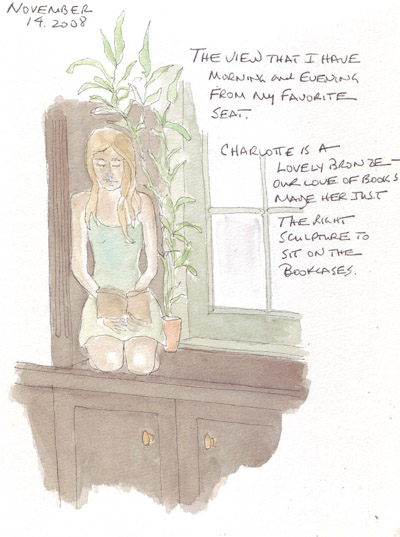 On Saturday, we took our oldest grandchild, now 5 1/2, to the Museum of Modern Art and he was thrilled and mesmerized by the children's audio that they have for multiple paintings. Here he is with the audioguide to his ear, listening multiple times to the wonderful information and music provided directly at his level. He first learned about Picasso's Three Musicians from the children's program "Little Einsteins." Also favorites that afternoon were paintings by Matisse, Chagall, and especially Rousseau's Dream.