More Sketchbook Pages
Suddenly we heard a large crash, then the sound of glass breaking - right in front of our apartment window. When we went to look, there was already a huge crowd gathering and several observers taking cell phone photos of the large lamp post which had fallen across the Avenue. Traffic was completely stopped and the fire engines had difficulty threading their way through the cars to reach the site. This fire truck was parked in front of our window for 5-10 minutes and it took me at least one minute to decide that I needed my sketchbook.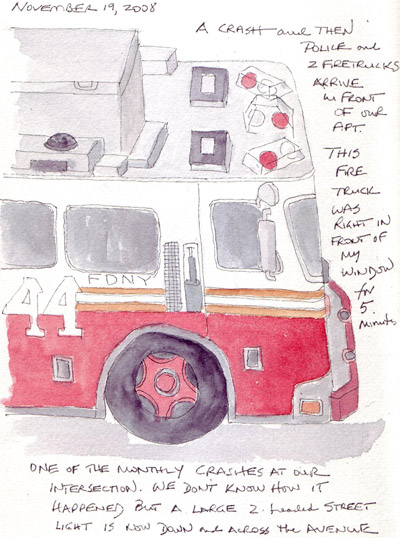 This is part of a homework assignment for Danny's Illustrated Journaling class. I already sketched my medicine cabinet for an EDM challenge, so I decided to sketch my art shelf in the library. This is where I keep my pencilcase (containing pencils, pens, and 4 waterbrushes), paints, and random art books of drawings by the masters that I use for inspiration and practice. When I learned that Danny was teaching his first class, I thought it would be fun for me to take it to "shake things up a little." I do a daily sketch already and just need a little boost and time for reflection about my Art Goals for 2009.