EDM Challenge #186: Draw Something That You've Always Wanted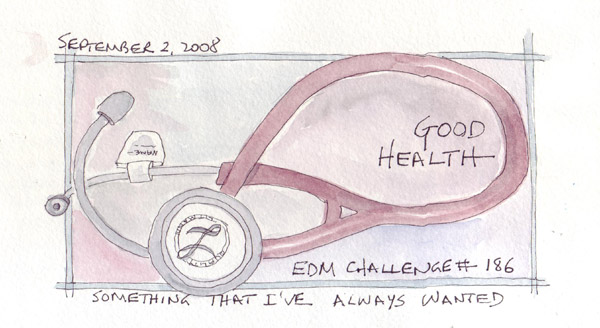 This was a very difficult challenge because I immediately thought about "stuff." But the "stuff" I always wanted a decade, or a year, or a week ago, I either got or no longer want. I am extremely fortunate that I did get the big things I wanted. I have a fabulous husband , 3 grown children with wonderful spouses, and 5 grandchildren ages 5 months to 5 years. I have a medical career AND I am a wife and mother - something considered impossible/improbable when I was developing my dream. I saw many parts of the US and had an opportunity to live in several regions that partially shaped me: The Northeast, the Midwest, Southern California, and Texas - and now I live exactly where I want to be for this time in my life - New York City. And I have always had creative passions and the ability to move among them in cycles to keep me happy and to make things for those I love. So after a full week contemplating this challenge, and because I am surrounded by many people who have to learn to live with ill-health, I chose to paint my stethoscope and continue to hope that I have "good health."
There are fewer EDM members posting this challenge than most - so I think others must be struggling with it.