Quebec Travel Sketchbook -4
Montreal:
We took the train back to Montreal and checked into the lovely Hotel Nelligan - a boutique hotel in Vieux Montreal. We arrived just in time for "Happy Hour" in the lobby so I documented our arrival with a sketch of the lobby floral arrangement while we were sipping our wine.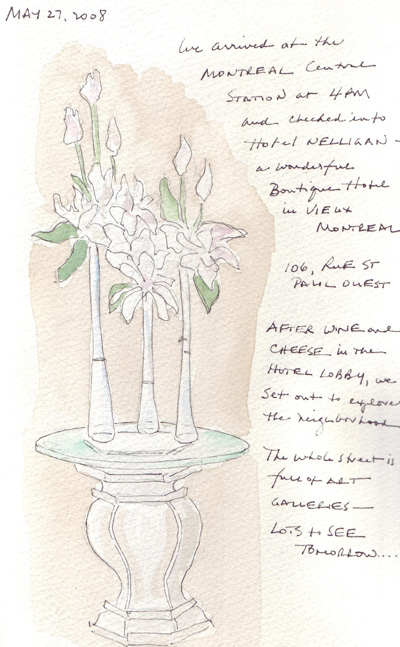 The following day we walked all the way to rue St-Catherine at rue Guy to see the Central area of Montreal - and then back again. We were in search of hockey jerseys in childrens' sizes and princess clothes for our grandchildren - making it a fun walk past all of the stores on St-Catherine. But we were happy to re-enter Vieux Montreal and I stayed outside a few minutes to sketch the door to the lobby of the Hotel Nelligan.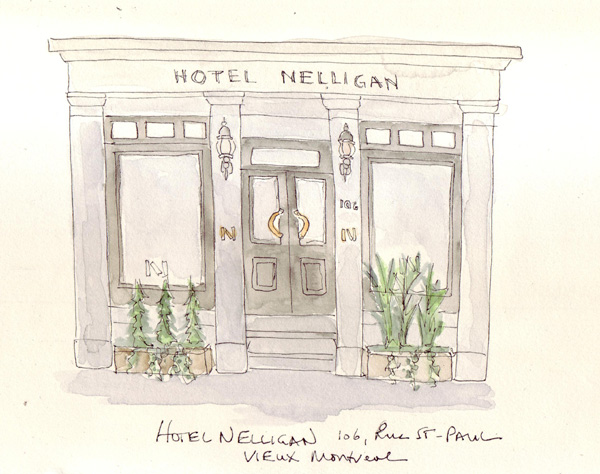 I sketched flowers during our first evening Happy Hour and from a seat in the lounge sketched the bar during the second. There is still a lot I have to learn about establishing 3 separate planes in a sketch - but this is all about practice!
Suzy, an EDM member from Montreal, suggested that we might enjoy seeing the Avmor Art Collection and I made an appointment with the Collection Director for a private tour during our visit. Mr. Morrow started an industrial cleaning product company on rue St-Helene in Vieux Montreal in 1948. In the 1960s he commissoned an artist to do a drawing of the building for the company Christmas card - starting what would become many commissions by many different artists in many mediums. They now have nearly 400 works of art, all inspired by and depicting the Avmor business headquarters. They have since moved the industrial part of the business to Laval, but retain 445 rue St-Helene for the Avmor Collection. The hours that we spent touring the extensive art and memorabilia collections were among the most pleasureable of our entire vacation thanks to Marie. We walked by the building the day before our visit and I did a sketch before seeing any of the Collection. I thought this might make other artists' interpretations even more meaningful to me.
After a walk and some gallery browsing, we stopped for lunch at an outdoor restaurant with jazz. While waiting for our lunch, I quickly sketched both musicians and was then surprised by the sudden appearance of the keyboard player at our table to see what I was doing. We were across the courtyard from them so I had no idea that he even saw me sketching. He was really nice and even agreed to sign the sketch. As he returned to play the 4th set, he stopped by to tell me that now I would have time to add faces!