Quebec Travel Sketchbook - 3
Quebec City (continued)
Rain arrived in Quebec City on our 3rd day and we did our big walk through the streets (haute-ville and basse-ville) with umbrellas. But we definitely didn't want to spend the rest of the day in the hotel. The gazebos along Terrasse Dufferin, on the top of the cliffs, provided wonderful shelter from the rain and allowed me to sketch and my husband to do one of his New York Times crossword puzzles. I sketched what I could see from inside of the gazebo and painted it while we were there. The color squares map our walk that morning. I decided that I don't like Fabriano CP watercolor paper, but had to forge ahead and use these few pages.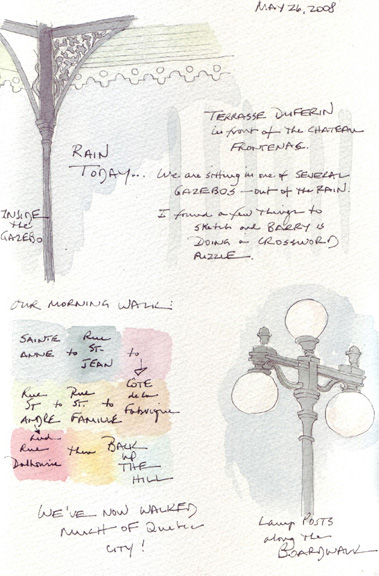 When we got too cold to sit any longer we went in search of onion soup gratinee and salad. I sketched the following "oldest house in Quebec" (Maison Jacquet; built in 1675-76) in the sun the afternoon before while my husband was at the gym. It is now a lovely, cozy restaurant named Aux Anciens Canadiens in honor of a book written by Philippe-Aubert de Gaspe who lived in the house from 1815-24. So it was a perfect place for lunch.
During lunch I sketched one of many figures on a large carved wooden picture above our heads - and then used artistic license to add color to her. I also sketched my husband's soup bowl after the thick layer of cheese was consumed. The painting was done later during a quiet moment.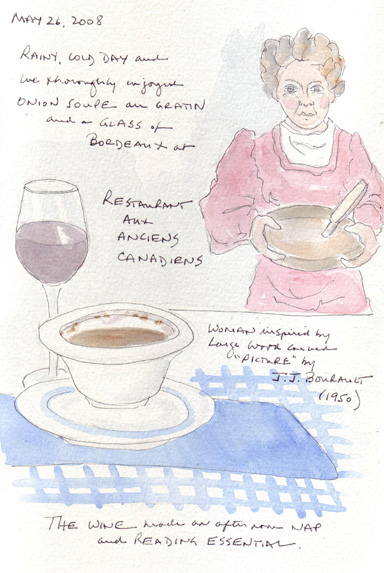 One of the buildings near Place Royale has an enormous fresco painted on the entire side of the building - depicting all of the historical figures important in the settlement of Quebec City. The figures are life-size as drawn - and it is a challenge to take a picture while students aren't posing at the bottom amidst the famous folks.