Quebec Vacation Sketchbook - 2
Quebec City (continued)
Exploration of Basse-ville: We wandered down the hill from Chateau Frontenac, not using a map, nor the funiculaire, nor the "breakneck steps," and found Rue St. Paul - a wonderful street of galleries and antique shops. On the way I quickly sketched a few items in gallery windows that we passed (sketched in pen quickly and painted later). We spent time in multiple galleries and found some new contemporary Quebec artists that we liked. On rue Sault-au-Matelot we visited an Inuit Art Gallery to learn more about the "Dancing Bear" sculptures in the window and then visited Musee de la Civilisation to learn some Quebec history. My sketchbook page from the museum visit has more writing than sketching as I learned about Quebec (page not included).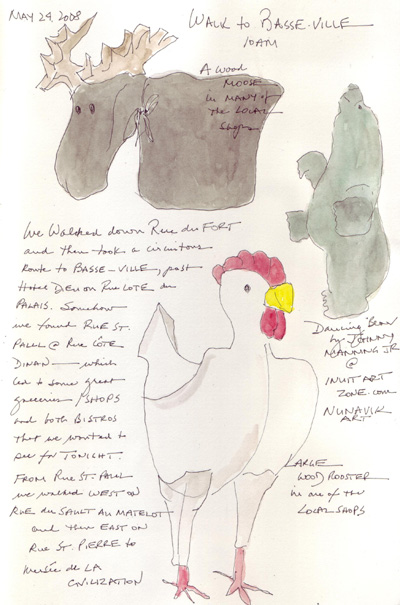 The following day we walked through Parliament Hill area to the Musee de Beaux Artes where we discovered two Canadian artists.
Alfred Pellan has many imaginary beasts in the permanent collection, including the large garden sculpture sketched here and a children's exhibit and workshop. All of the sketches on these two pages were done in pen as we walked through the exhibits and painted later.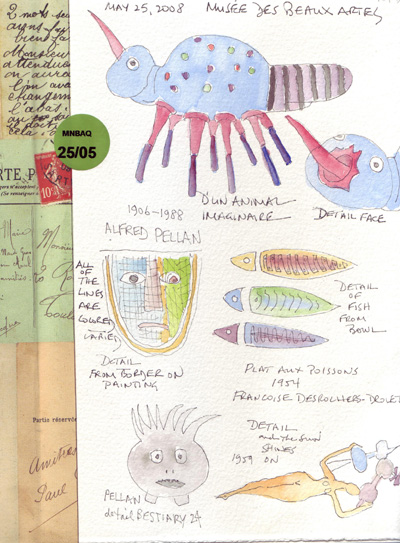 Jean-Paul Riopelle created a massive, haunting mural (Homage to Rosa Luxemburg: more than 30 huge paintings all strung together) in which he uses spray paint and stencils for many, many types of birds on Ile de Oies. It was beautiful, but also upsetting as I thought about dead Snow Geese and other types of birds being used to create so many images.
We also learned more about Inuit Art touring the Museum's Brousseau Collection and I sketched a few more Inuit sculptures at the Museum and several whimsical dancing bears in the window of a gallery on our way to dinner (we were 10 minutes early for our reservation). These bears were all sculpted from serpentine rocks and then highly polished by Inuit artists in Nunavik (Quebec Province).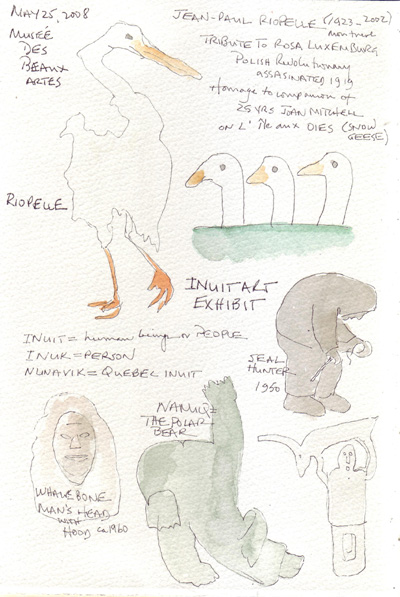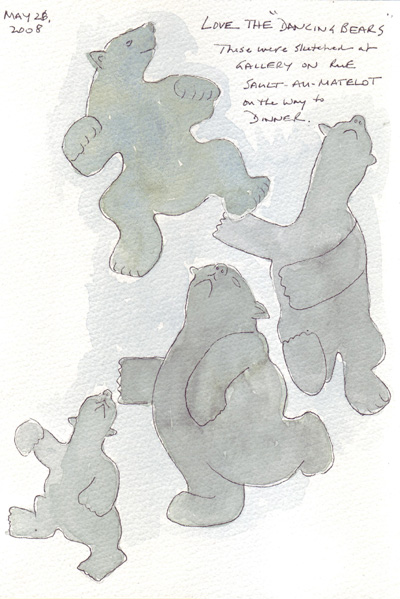 There were many performers in Place D'Armes and around the entrance to the Funiculaire. I took photos of some of the more interesting ones and later used two to sketch this artist and musician. It would have been difficult for me to sketch them without being very conspicuous - even the photos felt rushed. I had time in the early morning to sketch from my photos on our laptop so this worked well and allowed me to practice quick figure drawing (one of my Art Goals for 2008).