Our First Visit with Annabelle
We took the train to Washington DC last weekend for our first visit with Annabelle. I used 3 Cachet Linen Watercolor Journals for our multiple visits to London to visit our other grandchildren when they lived there in 2006-2007. I had one more just waiting for a special theme - and I decided that it would be my travel sketchbook for Washington DC and my visits to see Annabelle. When we arrived Friday evening I had just enough energy before bed to sketch a few flowers from the bouquet from her greatgrandfather and the tiniest cutest little pink socks I ever saw..
On Saturday morning I held her on my lap after I finished feeding her, and held my sketchbook up in one hand while sketching her little hands and feet.
The edges of these 7 X 10 pages don't scan very well.
We took her out for fresh air Saturday and visited Eastern Market where I always find something fun to sketch and paint. The tin rooster I saw in the morning was already sold, but there was a ceramic one that worked just fine! And I loved the cute lion face on a batik wallhanging made by another vendor.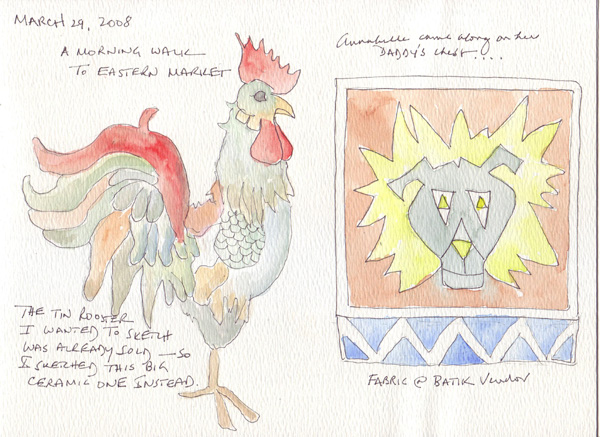 On Sunday I sketched her new "lovey," a Jellycat stuffed animal called "Miaow Bella Mocha." This was a gift from her cousin - before anyone knew her name. Now Annabelle has her cat Bella. It is customary in our family to take a picture every month with a specific stuffed animal to see changes in my grandchildren's size and development during the first year. My daughter and other daughter-in-law have been so creative that these are among my favorite pictures of our grandchildren. Bella will be used for those photos with Annabelle.