Pearl Paint - New York City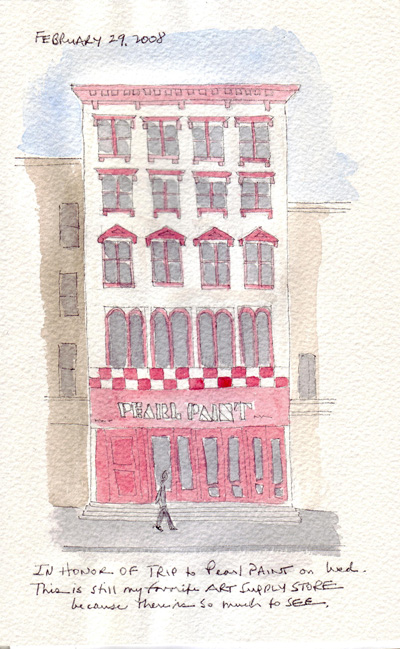 This past Wednesday I was completely free to play - no work or other scheduled activities. So I headed off for Soho for a visit to Pearl Paint and some of the galleries in the area. I only had several items on my art supply list, but I always love browsing at Pearl. It has one below ground floor and 5 above ground floors. This trip I purchased watercolor paper for my next recycled book and several pencils, but seriously wondered if I should begin to invest in some 5ml tubes of Schminke watercolor paints since there seems to be so much enthusiasm for the brightness of their pigments. Each 5ml tube (1 tsp) is $12-15 so I would only start with 3 primary colors - but then I wondered if they should be cool or warm primaries since I use both to mix colors with my Winsor-Newton paints. So I didn't get any.
Gallery-hopping is always one of my favorite activities in Soho, even though many/most galleries relocated to Chelsea and on Wednesday I was not disappointed. I discovered several new artists and saw lots of "eye-candy."
This sketch was done from a photo I took of Pearl Paint from the other side of busy Canal Street. It is much too cold right now in NYC to work outdoors - especially in my shearling mittens. It is on "rough" watercolor paper which I now know I hate! But when I recycled my NY State Tax Book last year I filled it with many types of paper so I could decide what I preferred. It didn't take me long to settle on HP 140lb paper.