Atlanta Trip
I just returned from 6 days in Atlanta, where I was attending an annual meeting of my medical society. It comes each year at such a horrible time - but the cities I visited during the last 30+ years are all gorgeously decorated for Christmas. When I arrived last Thursday, I did a sketchwalk (as discussed by Mari Le Glatin Kreis in her recent book) and filled the whole 2 page spread of my Moleskine watercolor journal.
From left to right across the two pages: The American Airlines logo from the airplane, the antique Celtic pin complete with a sharp dagger on the bottom which was in my carry-on (by mistake) and picked up by TSA (they let me keep it!), one of the many Poinsettia plants in all areas of the Georgia World Congress Center, the top of the Westin hotel which was visible from the Congress Center, and a view of the entrance to Olympic Centennial Park as seen from my hotel - the Omni at the CNN Center.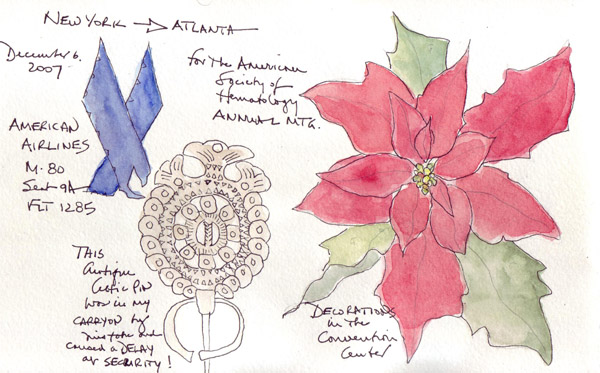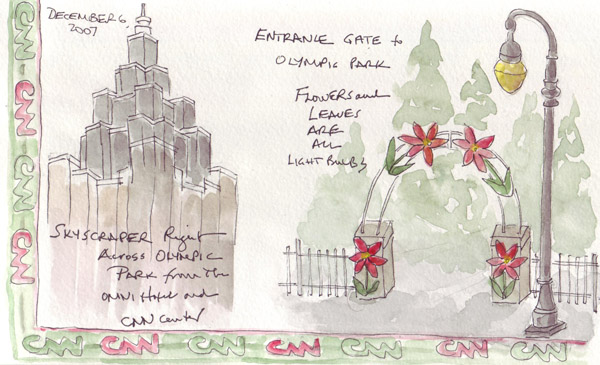 On the second day, to get a head start on my Art Goals for 2008, I sketched one of my friends who was giving a 30 minute lecture. My son, who is also a member of the society, thought there was a likeness, so I was pleased.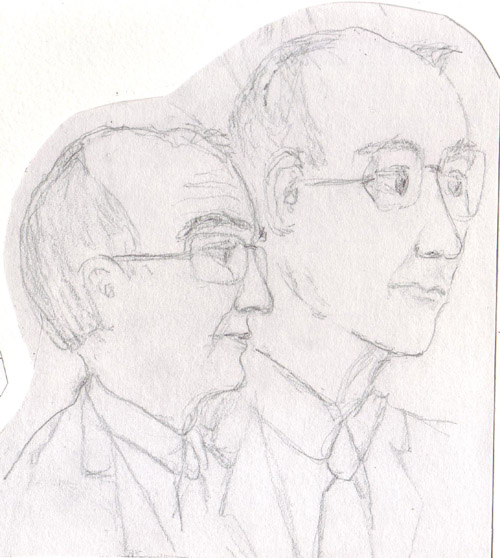 On the final day of the meetings I sat in the Omni Hotel, listened to Christmas music which was playing in the lobby areas, and sketched 3 beautiful Christmas ornaments. The gold and silver gouache doesn't show up in the scans, but the beautiful metallic reflections attracted me to these 3.