London Visits: Part 30 National Gallery Exhibit
Drawing from Paintings: Leon Kossoff Exhibit at the National Gallery of Art
My husband and I went to this exhibit today on our way to the National Portrait Gallery - and I was intrigued by Leon Kossoff's process of working. He began to sketch in front of National Gallery masterpieces when he was a young art student and returns over and over to sketch the same paintings - some over many decades. He even etches plates directly in front of his favorite paintings to make prints.
I like to draw from art masterpieces on occasion to learn more about techniques, but I usually buy a postcard to work from and rarely sketch a painting more than once. I'm afraid I would be very bored.... Maybe I'll need to try the same one once a year and see if I can do it.
Here is a link to a Degas Masterpiece Combing the Hair by Edgar Degas
Here is the very simplified sketch/print of the Degas Painting by Kossoff Kossoff Drawing of Degas Painting
Here is my sketch with some watercolor added.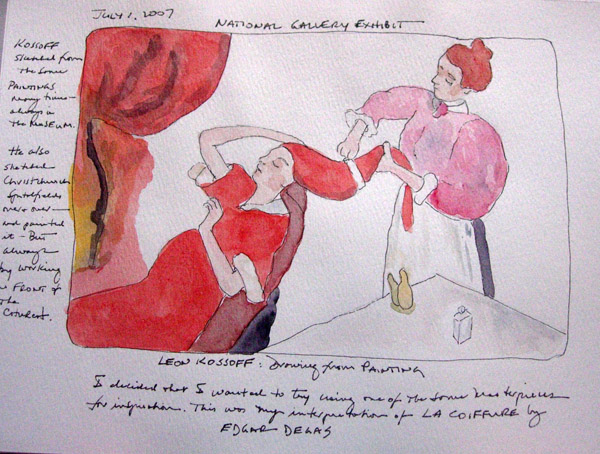 Most of Kosoff's drawings were more developed, resembling value sketches more than finished drawings. I also purchased a postcard of the Poussin masterpiece, The Judgement of Paris, which was another favorite of his, and I'll use it for some figure practice when vacation is over.