London Visit: Part 29 Terrorism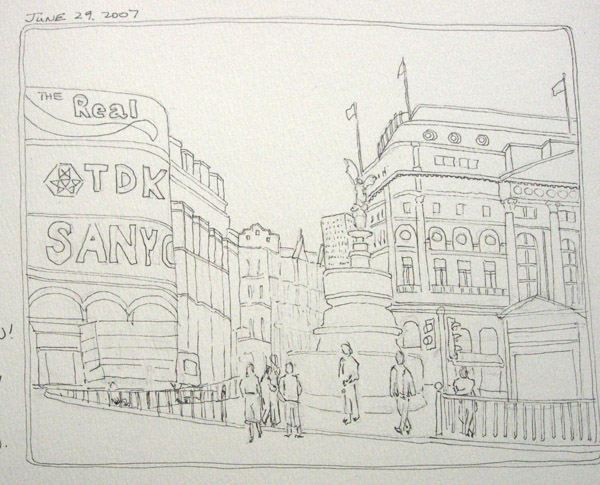 Our daughter, her husband, and our 3 grandchildren left their lovely, rented Chelsea home at 7:30 AM Friday - and we came back in the house for our continued minivacation, only to see the breaking news on BBC. We decided to stay in for the morning to see BBC/CNN news coverage of the suspicious car discovered on Haymarket. While we watched the news unfold, I sketched my photo of Piccadilly Circus - taken earlier in the week. I still need to add watercolor wash, but wanted to post this as the the first of my 3 journal pages on this morning when the London threat level has been raised to critical.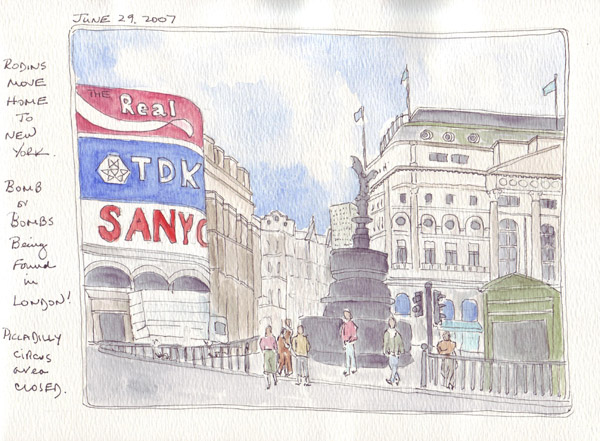 After lunch on Friday we took a bus to Westminster to walk around Big Ben - to see what sections of Parliament were reopened since our February visit. We were amazed how many people were out and about - all appearing relatively unconcerned about the possibility of terrorism. I took many new photos of Big Ben so I could continue to play with the image in a series of sketches and then we visited Westminster Hall. We have vivid memories of our visit there in 1970 - and weren't able to see it again until now. When we came out the helicopters that were hovering over Piccadilly area had moved slightly west, but we didn't learn about the closure of Park Lane and the robotic exam of the second car until we arrived home.
Saturday morning we left early for a visit to Portobello Road Market - in the rain - and I took this photo of our Circle Line train arriving at the Sloane Square Station. We walked back to Chelsea during intermittent heavy showers - and then learned about the Glasgow Airport incident. Foot traffic along King's Road and in Peter Jones Department Store during their big sale was unchanged from the usual Saturday afternoon crush. We are watching local news, but will continue with our plans for today and remain hopeful that this Critical Threat alert will end shortly.