London Visits: Part 31 - Miscellaneous
A combination of a real antique guard uniform and the life-size Bear that sits in front of Daisy and Tom's toy store on King's Road in Chelsea. When visiting the Antique Military Uniform dealer in Antiquarius (131/141 King's Road), I learned that you can tell which guard division wore the uniform by the placement of the buttons. Here on the left is a coat from the Coldstream guards because the buttons are in groups of 2. The Bear is dressed in the Scotch jacket because the buttons are in groups of 3.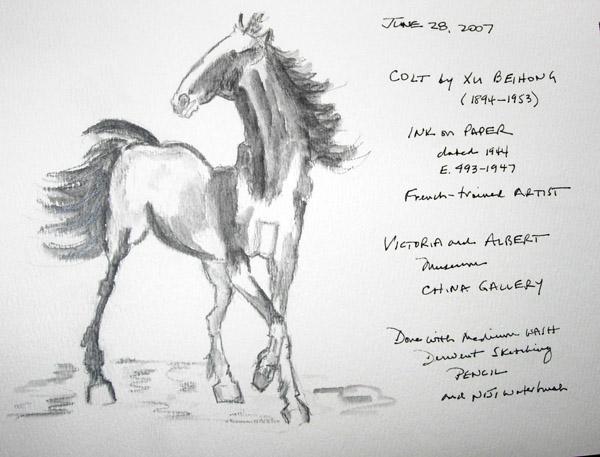 Inspired by an ink painting in the China Gallery at the Victoria and Albert Museum.
An exercise in perspective: this is the modern stairway in the central area at the British Library on Euston Road. I'm not sure that it is possible to understand it unless you know the structure.
This was my second visit to the manuscript reading room over the past year to transcribe a letter from Col. Henry Bouquet to the British General George Gage. My Gr-Gr-Gr-Gr-grandmother Christina Wampler was kidnapped in 1757 by the Delaware Indians as child from the Wampler farm in Lebanon Township Pennsylvania. Col. Bouquet was then sent to the Ohio Territory to arrange a prisoner release with the Indians and in 1764 sent a letter to General Gage describing the negotiations and listing the prisoners who were delivered to Fort Pitt by the Indians (now Pittsburgh).