Every Day in May: May 25th and 26th
Memorial Day weekend in the US, which means 3 days off work - and beautiful weather. Many New Yorkers escape for the country or open beach houses. Others, like us, love the city during the summer - it seems slower and neighborhood restaurants are less crowded.
Yesterday I did another lesson from my Anne Elsworth Watercolor Skills Workbook: Painting an all-white still life with a monochromatic color scheme.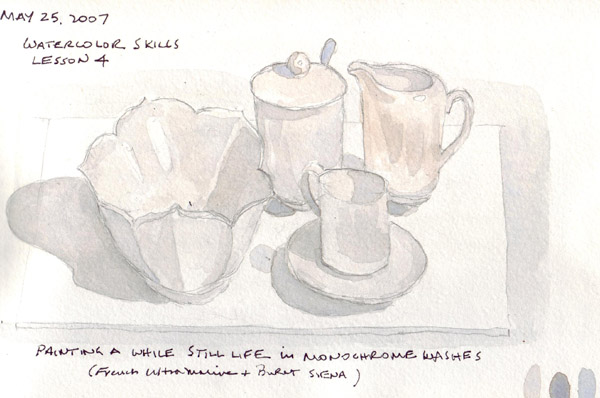 Today my husband and I took a late afternoon subway ride to Battery Park - I had NEVER been on the Staten Island Ferry - a free 30 minute ride across New York Harbor. Here are two pictures that I took from the railing - one on the way out of the ferry slip and the second one as we were returning to Manhattan. I loved every minute of the ride, including the path past the Statue of Liberty.
After our ferry ride, we stopped for dinner at Battery Gardens - and sat on their outdoor patio overlooking the harbor. I was able to sketch another table - and also do a 3 minute sketch of one of the huge sailboats that quickly passed our table.