Every Day in May and EDM Challenge #119: May 19 and 20
May 19th: I sketched my EDM Challenge while at the Metropolitan Museum of Art yesterday on the World Wide Sketchcrawl. Rocks are a little hard to find in my immediate neighborhood and the weather was too awful to go into Central Park to paint one of the big rocks. So I painted 3 big rocks that make up the side wall of the Temple of Dendur (15 B.C.E.). This allowed me to really focus on the engraved drawings - which are wonderful. There are approximately 5-6 figures down each side of the Temple and I don't think that any two are the same.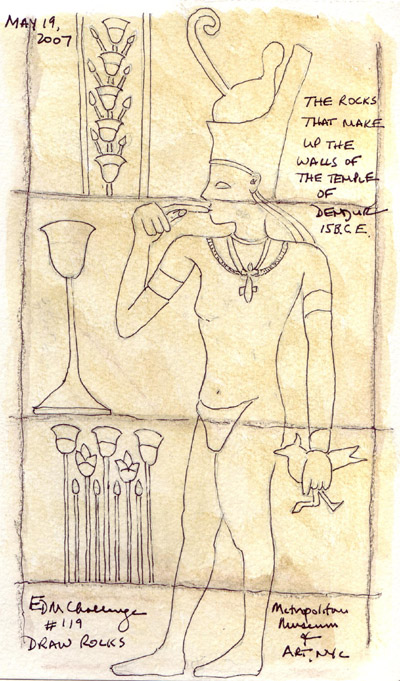 May 20th: I walked 10 blocks from home, looked around, and sketched a small piece of the roofline of the Jewish Museum on 5th Avenue in Manhattan. There was a man sitting on the one of the benches painting the facade in a wonderfully loose, impressionistic style. I sat on the curb (because 5th Avenue was closed to traffic) and tried to just capture a little of the essence of the complicated architecture and decoration. I love the aged copper portions.