More Figure Drawing Practice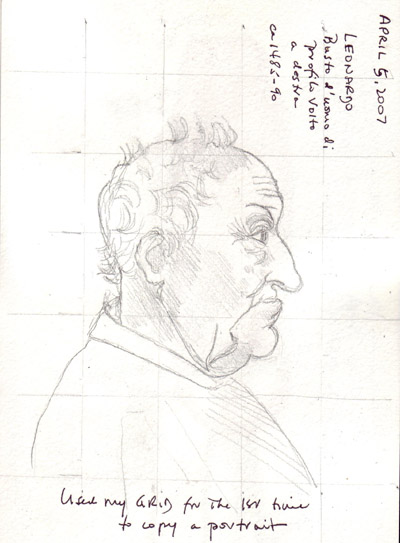 In 2003 I purchased a set of postcards of Leonardo DaVinci's portrait drawings during a visit to Vinci, Italy and his museum there. One of the drawing exercises from a book I'm working through was to use a grid to reproduce a drawing and I decided to try it with a Leonardo portrait. It was great fun - and I decided to leave my grid marks in place so I could remember the utility of the exercise and method.
More figure sketches from my Yoga "How-To-Book" - purchased only to use for figure drawing practice. These are definitely challenging because of the extreme body positions and work very well for my daily sketches when I'm too tired to compose a more complicated daily sketch page in my journals.
This year I hope to draw many more figures to develop some basic skills - but still don't have time for organized life drawing sessions. I bought John Raynes' book The Figure Drawing Workbook at Green and Stone in London and I'm working through the lessons and exercises slowly. These are a few of the first sketches completed. I'm doing them in my recycled book of Michaelangelo sonnets, so you'll see one very yellowed page that I rebound from the original book. The figure sketched on the sonnet page is actually inspired by Posemaniacs.com - the Japanese site that Cully recommended in one of his EDM messages. I'm trying to use regular pencils, colored pencils, Conte pencils, and watercolor so I can also explore different media and papers.