Watercolor Skills Workbook
In 2003 I purchased Winsor-Newton watercolors in primary colors and Anne Elsworth's book entitled Watercolor Skills Workbook - 10 easy lessons. However, it wasn't until July 2005 that I partially retired and in September joined EDM. I'm finally starting to slowly go through the 10 lessons - and doing a few of the exercises and projects.
Lesson one recommends a basic palette and then outlines exercises to mix secondary and complementary colors. I mixed Winsor lemon and French ultramarine to make green and then added varying amounts of cad red to mix complemetaries. These were used to paint houses from a painting by Camille Pisarro (The Hermitage at Pointoise - posted March 13th).
I'm now posting 2 projects from lesson 2:
Project 1. Drawing a still life on mirror tiles: I took several items from my china closet and sketched them on a round mirror. It was fun, but I'm not sure I would know this "busy painting" is because of reflections in a mirror if I didn't know it.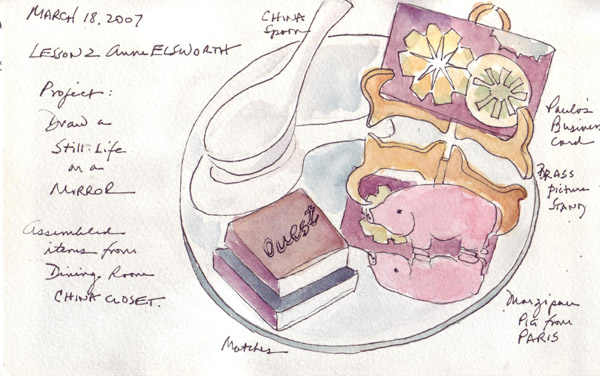 Project 2. Painting the silhouette of buildings: This is a painting of the Tower of London rooflines from a photo that I took during our October visit. I loved doing this project and will probably paint more photos from the series of photos that I took that day!