London Visit: Part 17: V &A
Last Thursday I met Katherine Tyrrell and several of the Society of Graphic Fine Art members for a sketch day at the Victoria and Albert Museum. I was delighted that they chose the Islamic Art Room - we saw it briefly when it reopened this Fall and I always meant to return to sketch some of the designs. I spent the morning analyzing a Turkish tile design followed by a Turkish bottle. We had canvas stools and I had my backpack with sketching tools, waterbrushes, and the Daler-Rowney cylinder of watercolor paints. I was delighted to be so comfortable sketching/painting and zoned out.
I chose this Turkish tile design because it forced me to slow down and figure out the design which was symmetrical across the diagonal of the square. In the past I photographed magnificent mosaic tiles from the floor of the old Paris Opera House and appliqued quilt squares from the designs.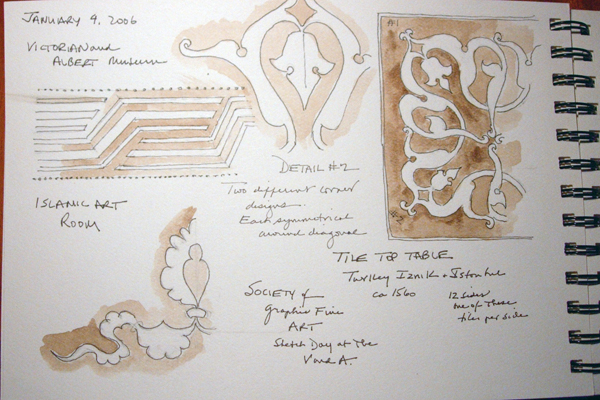 This 16th C Turkish bottle was the most beautiful shades of blue. I loved the stylized flowers and also envisioned the design in fabric.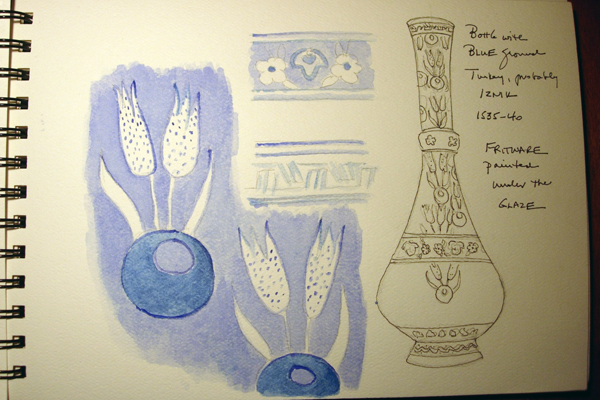 Katherine prepared a sheet of Arches Watercolor paper with a grid design before she came to the museum. She then copied designs from a series of beautiful plates and was halfway done when I left. Her work is wonderful and is now posted (Jan 5th entry) at:
http://makingamark.blogspot.com/
My notes re: adding hot links in my blog are back in New York - so I'm just adding the link to Katherine's blog here because today's entry is from her visit to the Holbein exhibit, followed by the sketches from the V & A. I love reading all of Katherine's blog entries, and not only enjoy her journal sketches, but learn something about art everyday because of the research she does for each entry.