London Visit: Part 18 - British Museum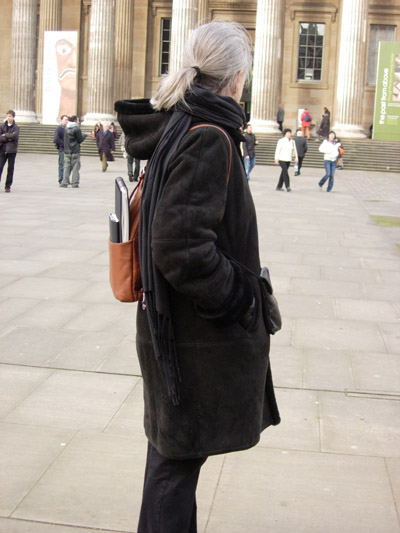 I'm about to enter the British Museum to see the exhibit "The Past From Above" - 100 aerial photos of the major archeologic sites of the world. In addition to the photos they had artifacts from the British Museum to supplement some of the images. This photo of me shows my brown leather backpack with sketchbook and map in the back and small digital camera in a black leather pouch on the front. This has been a successful way for me to be a grandmother and tourist while sketching quickly and taking lots of reference photos.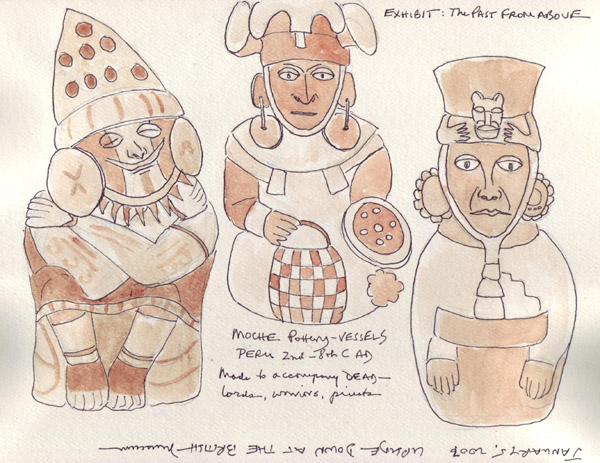 I was very attracted to these 3 pieces of Moche pottery that were together in a case next to an aerial photo from Peru. I sent my husband off for 30 minutes to work on a New York Times crossword puzzle from his pocket and sketched as quickly as I could. I was in such a hurry that I actually sketched it upside down in the journal. The watercolor was added at home using a reference photo that I took in front of the case. We returned from London yesterday so this journal page was scanned, not photographed. It was another great visit and I brought home many reference photos that I hope to use for sketches in my recycled Elizabeth I book.