EDM Challenge #87: Draw Your Lunch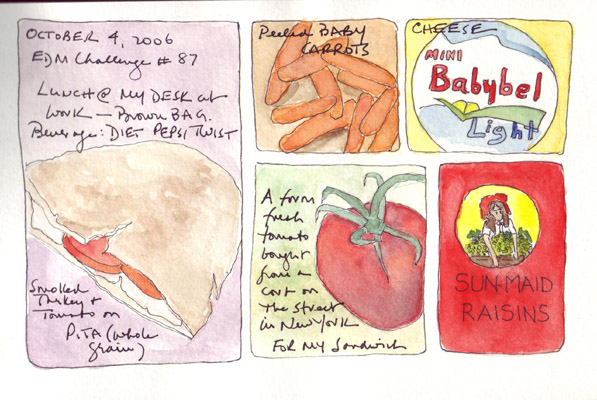 The grid format was perfect for sketching my lunch today. My work always far exceeds the amount of time I have in any day, so whenever possible I bring lunch and eat at my desk while reading, answering email etc. Some days lunch is provided at meetings and I have some control over the menu so the choices are reasonable. I'm not a health freak - and it takes alot for me to pass up potatoe chips, french fries, juicy big burgers, melted cheese, tacos and fajitas, and large loaves of freshly baked bread.
In the past, when I didn't bring lunch to work, I seemed to eat all relatively unhealthy things that were available in the building and growing older means slower metabolism and the need to reduce calories. The sandwich is smoked turkey and fresh tomato on whole grain pita. I only sketched half. I bought the tomato from a produce cart halfway between my apartment and garage on my way to work and it was really fresh and delicious. The remainder is self explanatory.