A Weekend in Washington DC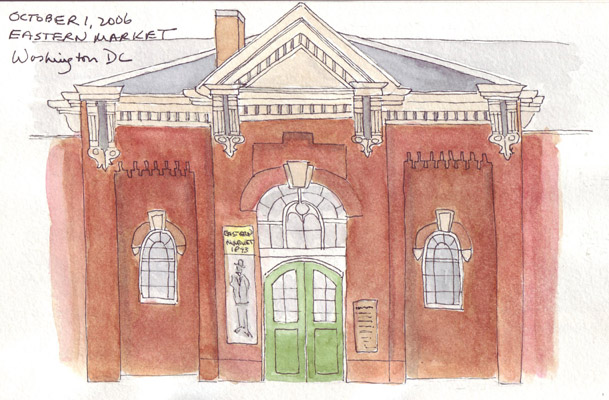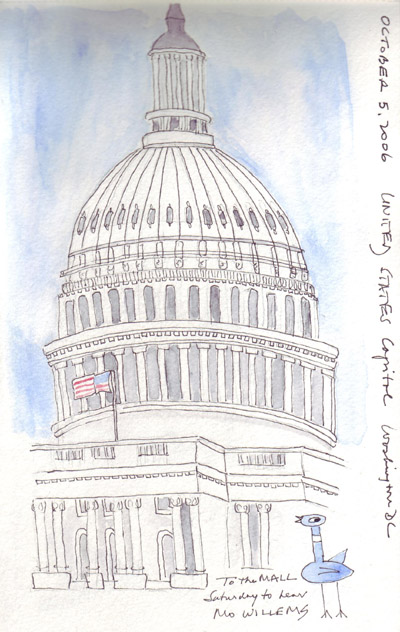 My husband and I went to DC last weekend to visit our son in their new home near Eastern Market in the East Capitol Hill section. We went to the Market early each morning for food and on Sunday I went 30 minutes before the group so I could quickly sketch the Eastern facade (built in 1873). I stood and then sat on the sidewalk across the street and just finished when they arrived. Then we realized that the image used for the market on T-shirts and by local artists is the North facade. One of the artists in front of the Market told me, "I'd never do that complicated Eastern facade." My sketch of the north facade is coming.
On Saturday we went to the Library of Congress Book Festival on the Mall to hear Mo Willems, the author/illustrator of the pigeon series of children's books. Don't Let the Pigeon Drive the Bus is a real favorite in our apartment with our grandchildren and he was wonderful - even passing out paper and pencils to all of the children in the audience and then teaching them how to draw the pigeon! We walked home up the Mall toward the Capitol, but I didn't have time to sketch the rotunda. This sketch was done from a photo taken as we walked by.