A Day in Manhattan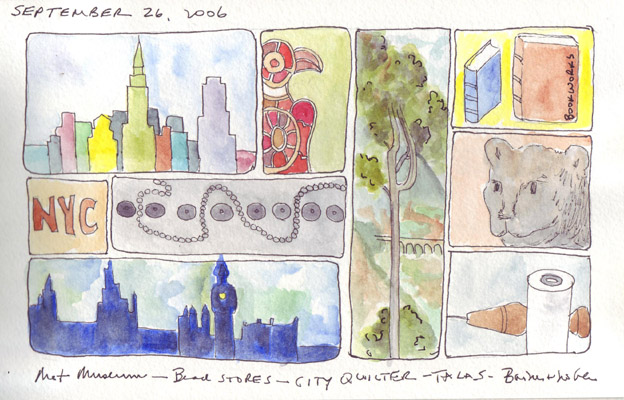 Grids were being posted to EDM just as I was leaving to go out on Tuesday - and it seemed like the perfect answer for my daily sketch. I started at the Metropolitan Museum of Art where I saw the special Ambrose Vollard exhibit and painted Derain's view across the Thames of London and a Cezanne tree from the paintings I saw. No sketching was permitted in the exhibit - but fortunately I was able to buy postcards of these two paintings. The garnet and gold eagle is from 500AD - and part of their jewelry collection. The lion is from the Rembrandt drawing exhibition.
I then took a bus down 5th Ave to the bead district on 37th St. to buy beads and sequins for a group project with my Art Quilt friends.
Next I walked down 6th Avenue to NY Book Center to get a class chedule in case I decide to take a weekend class in bookbinding (I'm going to blame Jan Allsop and her recycled books for this new interest), and then along W.25th Street to City Quilter to buy muslin for my next baby quilt (grandchild #4 in January in London). The Manhattan skyline is their business logo (I colored what is usually just an open line).
Finally I ended at Talas on W. 20th St. to buy linen thread, an awl, and a bone folder to recycle a book. I sketched the thread spool, awl, and the book I bought entitled Bookworks by Susan Doggett.
It was a great way to sketch my day and purchases.