London Visit - Part 9: Miscellaneous Sketches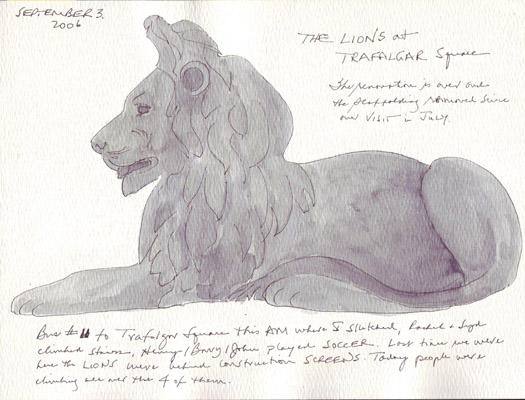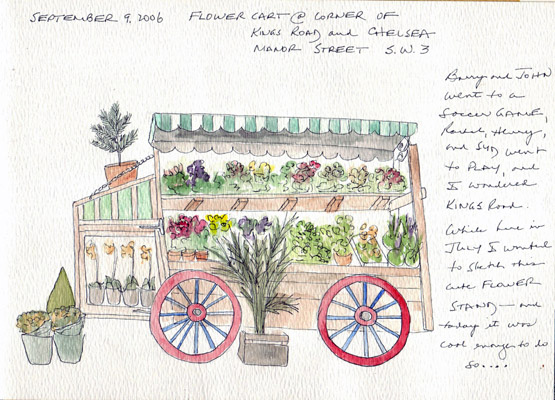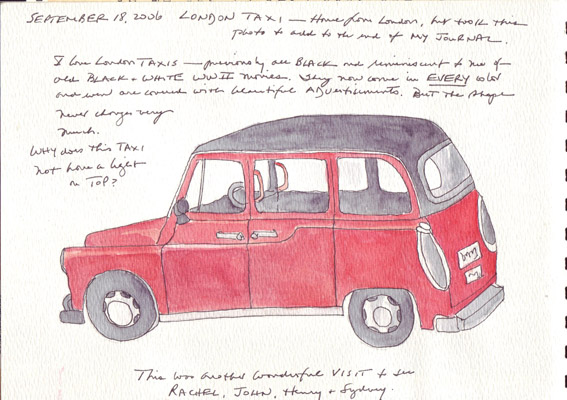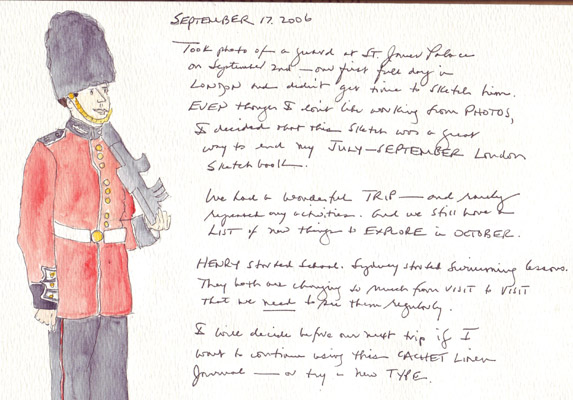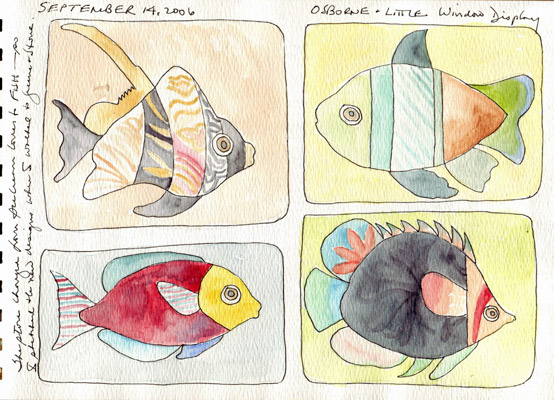 These are the last London sketches that I wanted to post from our September trip. All of the other pages of my sketchbook that I haven't scanned have drawings from our daily life with our grandchildren in my daughter's house.
Lion: One of the recently refurbished and now uncovered lions from the center of Trafalgar square. The tourists are still climbing all over them for photos.
Flower Cart: A charming cart that is permanently set up along King's Road, Chelsea. The red and blue wheels, which add charm, are just propped up against the actual cart. While I was sitting on a small step at the corner, the only person who stopped to talk was an 8-10 year old boy who then had to catch up with his mother and brother. He spent more time with me again on his return trip down the sidewalk - but Mom didn't seem really interested in letting him take time to ask all of his questions.
London Taxi: I Love all of the gaily-colored London taxis, many with very interesting exteriors that are part of a total car advertisement. This sketch was done from a photo while the taxi stopped for an instant to let off passengers. It was only when I was drawing it that I noticed there was no light on top.
St. James Palace Guard: We were walking by the Palace with my 3 year old grandson Henry when the guards changed shift. I took a photo of the new guard when he got into position and then did this drawing from the photo.
Fish: When we visited London in July, Osborne and Little Decorating Shop on King's Road had ice cream cones in their windows. This time it was fish. Each of the colored pieces in these drawings are separate fabric-wrapped pieces of cardboard or wood. There were 4 types of fish as pictured here and each window had multiple fish of a single design. I can't wait to see what their Holiday display is going to be. I went into the store to ask permission to take a photo when I was done sketching and learned when the windows will change again.