London Visit - Part 3 - Out with our Grandchildren
We spent many mornings with our grandchildren during our visit to London and these sketches were from a larger group that were done during our special outings so I could remember the moments.
We took a walk to South Kensington with both Henry and Syd so our daughter could take us to Harrods - the excuse being real American Krispy Kreme doughnuts. Henry loved this 3 foot London Bobby who appeared randomly around the store to remind shoppers about store surveillance and then selected the large chocolate replica of Big Ben for me to sketch next.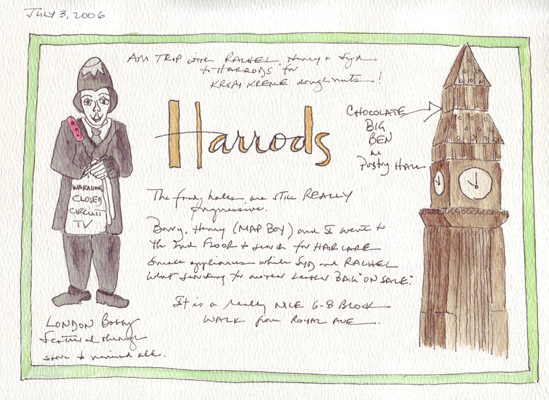 We had an exciting visit to the Natural History Museum dinosaur exhibit. While my husband took Henry to the catwalk-like viewing balconies, I stayed with the stroller and sketched the triceratops skeleton head.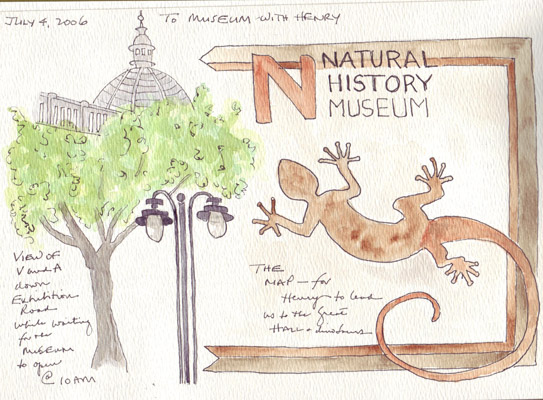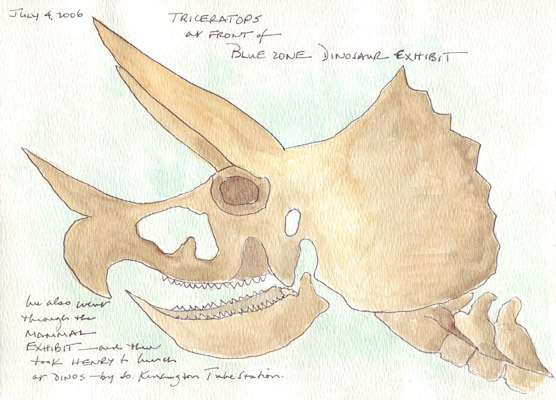 Henry wanted to ride on the top of a London double-decker bus, so we planned an excursion for all of us to take a bus to Hyde Park for the morning. We took Henry to the front seat on the top while my daughter remainded with Sydney and her stroller below. We wandered the park, watching ducks being fed in the Serpentine, and spent time in the children's playground where Henry was partial to the bouncey bike.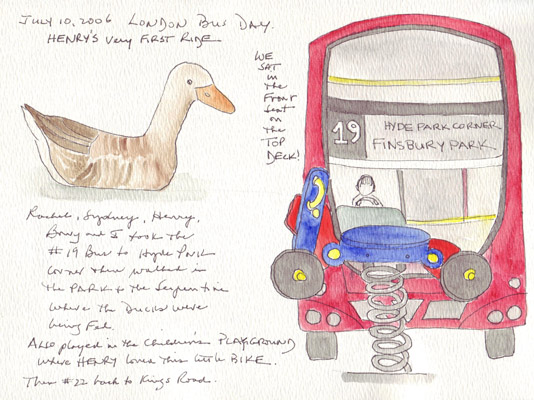 One of our last museum visits was a morning trip with Henry to the Science Museum. He introduced us to the many interactive exhibits for children and then, when asked, requested a book on rockets at the Museum store. The young woman in the store directed us to a wonderful book called "Astronaut For a Day" which was perfect for him. In the afternoon, while the cast of the new Superman movie was in London for a promotional visit, my daughter bought him his own superman costume. Neither of these sketches are of Henry - the astronaut is from the book and the superman costume is on a "model." He took off his costume to go to sleep but had to take his astronaut book to bed with him. As we were leaving London. my daughter was negotiating with him where it was OK to wear a superman costume.