San Antonio Trip and EDM Challenge #71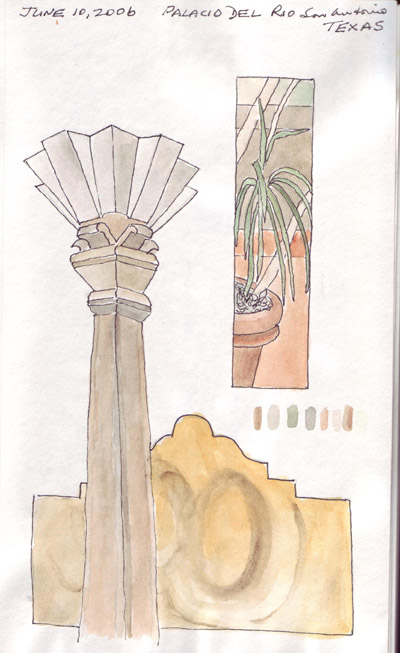 I went to San Antonio last weekend to give a lecture, visit Mom, and see old friends from my 18 years working at the University of Texas Health Science Center and participating in the Greater San Antonio Quilt Guild.
The first page includes sketches from the Hilton Palacio Del Rio Hotel. I loved the perspective on the torchere and the color variation in the large marble wall hanging which is an outline of the Alamo. On the top right is a small sketch done with a 1:4 ratio viewfinder (Wet Canvas Drawing Basic Class 102 - Class 2 - Assignment 1 on Creativity).
The second page was done from the Hilton outdoor cafe on the Riverwalk to commemorate the famous San Antonio Riverboats which fill up and empty at the landing directly across the river (really a small canal) from where I was sitting enjoying my annual margarita and cheese/fajita beef nachos.
The 3rd page is a sketch of the small, soft Spurs basketball that I purchased in the airport to bring back for my oldest son (the big San Antonio Spur's fan) and his 10 month old son. It is perfect for the weekly EDM challenge which was announced <24 hours later.