EDM Challenge #70: FEAR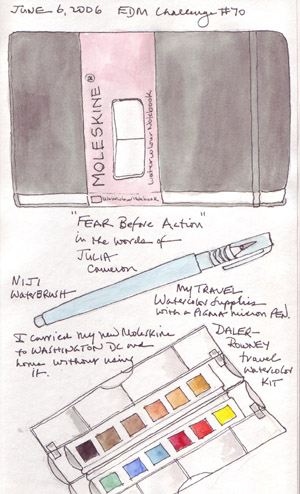 I made a special trip to our Manhattan Dick Blick store to buy the new Moleskine watercolor notebook before going to Washington DC to see my son's new row house. I had every intention of using this new watercolor journal for all of my sketches over the Memorial Day weekend, but instead returned home with 8 new full pages in my Aquabee Globetrotter spiral sketchbook (70 lb paper).
What is this all about? I think Julia Cameron's phrase FEAR BEFORE ACTION captures my problem best. It is difficult for me to get beyond perfectionism (not that I am perfect in any dimension) which means that in my warped thinking the new notebook is special and "should be saved for special pictures." I know this is crazy childhood thinking, admonitions from the many adults in my life. But it really does interfere with my freedom to just sketch and have a good time painting my sketches however I want!
I never have that feeling as I begin page after page, everyday, in Volume 7 of my spiral sketchbook - and I'm afraid that the Moleskine watercolor journal will join 3 other unused watercolor journals on my shelf. HELP!