EDM Challenge #59: First Signs of Spring - Barely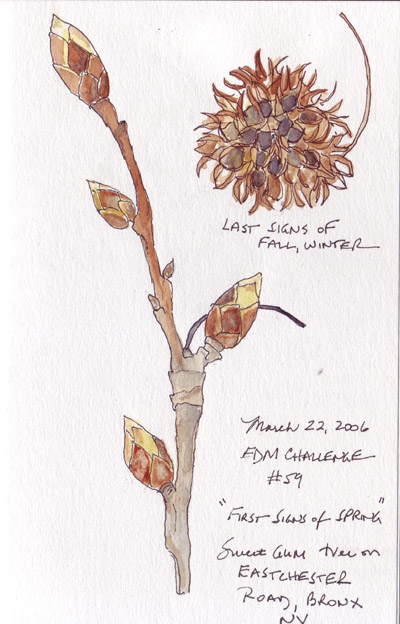 Those who know me might have said that the appearance of "PEEPS" on the grocery store shelves heralded the arrival of my spring. When I left for work, with a wind chill of 15 degrees, on Monday AM, I seriously considered sketching and painting two boxes of Peeps for this challenge. Today, however, one of a long row of sweet gum trees that line the block between my office and parking garage was definitely "blooming" with multiple 3/4" buds along each branch. All of the other trees in my neighborhoods look dormant. My other favorite signs of spring are the many beds of tulips that bloom all along the streets and in the flower beds in the city - a wild profusion of colors. The tulip plants are approximately 4-6" in height today and many actually look like mutants! Did they always look so twisted and deformed? I will have to inspect them daily to watch them flower to answer that question.
I also brought home a sweet gum seedball that was lying with hundreds of others below the trees. Laura's paintings inspired me and my husband challenged me to TRY to sketch and paint my own. I really think they are works of art all by themselves.