Everyday Matters Challenge #50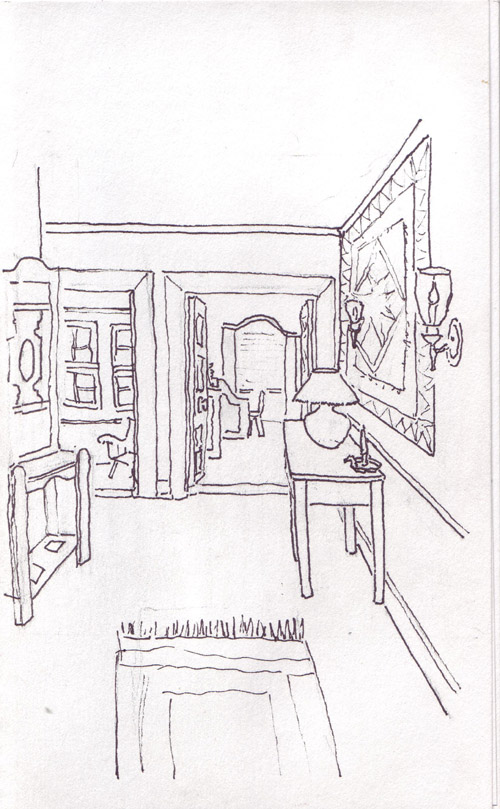 Reflections:
1. The Drawing: This was one of the hardest sketches I have done. I wanted to work in my 5.5 X 8.5 daily journal, but feel as if I really needed a huge piece of paper to draw all of the moldings and details. Thus this is simplified for the smaller format. The apartment walls and trim are off-white and the floors hardwood. The furniture is all slightly different shades of brown wood and the quilt that I made is cream background with a red and green feathered star with mutliple red and green pieced borders. Newbies like me should get a laugh when they notice that the furthest wall sconce "just appeared" in the middle of my quilt! If you look really quickly you don't notice it. The rug is a complicated red/green/beige geometric design - do I have enough inner strength to tackle the design? I wanted to post this before I added watercolor because I have no idea how I will develop the sense of deep space and warm light. Any ideas?
2. My feelings as I enter my apartment: I love my apartment and my life in New York City. My childhood home is 22 miles from our apartment, in Northern NJ - our move to Manhattan was like coming home. Although we live on a busy avenue, it is possible for me to get completely lost in my apartment, or to be surrounded by people from all over the world within minutes. We can walk almost anywhere that we want or take easily available public transportation. Our car is used only when we are leaving the city - I drive 11 miles to work and back. The entry hall has an antique table (purchased when we lived in San Antonio Texas) and an antique Victorian oak hall tree (purchased when we lived in San Diego). It is covered with hats, caps, and earmuffs which I ignored in my sketch, but just this minute realized that I should have then added the empty hooks! The double doorway on the right leads to the living room and the door to the left leads to the dining room. The light on the table is hand blown glass, and on most of the time, creating warm light and shadows. The antique brass candle holder was purchased during a favorite vacation in Amsterdam. We just renovated one of the bedrooms and now have a beautiful mahogany library - my new favorite room. Maybe I'll be brave enough in another week to sketch in there.