Bivalent Booster Dose for Fall 2022?
The FDA VRBPAC Advisory Committee met on Tuesday for the 2nd time in order to discuss Covid-19 booster shots for Fall. The influenza vaccine given each Fall is selected late Spring and prepared for administration in October-November. The influenza virus doesn't mutate as quickly as the coronavirus, and for many years a WHO committee has selected the circulating variants to make a combined flu vaccine for the Fall. They have lots of experience planning which influenza variants should be used for the vaccine.
The original SARS-CoV-2 mRNA vaccines (prototype) still have remarkable ability to prevent hospitalization and death, but the coronavirus virus is mutating faster than influenza viruses. Omicron has mutated frequently since its appearance in Dec. 2022, and the current subvariants BA.4 and BA.5 are now the dominant strains in the US. There is a slight decrease of the prototype vaccine against these variants in lab tests. After a full day of reviewing the recent efficacy and safety of vaccines made against the variants by Moderna and Pfizer the committee was asked whether the fall booster shot should contain the omicron variants to broaden the efficacy of the vaccine. See Below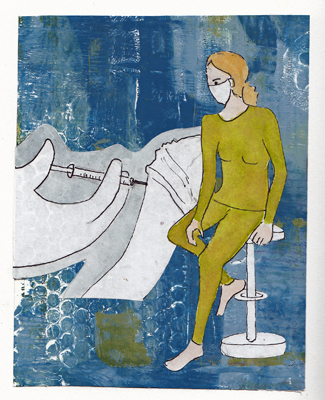 The committee voted 19 yes and 2 no, and soon will decide whether it should be a bivalent vaccine combining the original coronavirus mRNA (Wuhan strain) and omicron subvariant mRNA. Both Moderna and Pfizer have made and tested some bivalent vaccines against the coronavirus SARS-CoV-2 virus and they do have broader efficacy. Both Moderna and Pfizer said they could manufacture enough of the proposed vaccine by early to mid-October. For now, vaccinated people should get the 2nd booster.