Covid-19 Infection During Pregnancy
Nature Medicine, a premier science journal, just published a paper from Scotland about Pregnancy and Covid-19 infections. They have a health system that allows scientists to survey large groups of the population and link them to specific therapy and health outcomes in thousands of patients. Data of this type has not been available previously for pregnancy and Covid-19. They were able to survey 79,148 deliveries, 80,183 live births (with multiples). There were 273 stillbirths and 179 neonatal deaths during the SARS-CoV-2 pandemic.
From Dec 1 2020 to Oct 31, 2021 21,194 (47%) of pregnant patients were vaccinated with 2 doses of Moderna, Astrazeneca, or Pfizer vaccines with equal distribution of vaccination over the 3 trimesters.. Only 5% of these patients received booster doses. During the same time period 85% of non-pregnant women aged 18-44 years in the general population were vaccinated. There were 4950 confirmed Sars.CoV-2 infections in pregnant patients and the incidence was very similar in all 3 trimesters. Of the infections, 77% occurred in the unvaccinated women, 11% in partially vaccinated, and 11% in the fully vaccinated. Hospitalization occurred in 19.5% of the unvaccinated and 98% of them were in the critical care units. Only 5.1% of the fully vaccinated were hospitalized and only 0.2% required a critical care unit admission. See Below for Baby Statistics.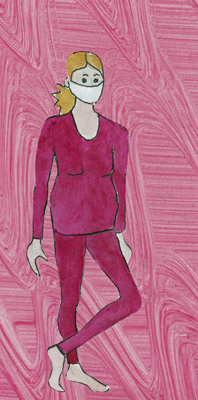 A total of 2164 babies were born to women who had Covid 19 infection during Mar 1, 2020 and Oct 31, 2021. There were 11 stillbirths (death after 24th week of pregnancy), 241 were preterm births (<37 weeks gestation), and 8 live babies who died within 28 days of birth. All of the perinatal deaths occurred in women who were unvaccinated.
This was a complicated scientific paper and I tried to pull out the most important data. The bottom line is that all pregnant women, not previously vaccinated, should get vaccinated during their pregnancy with 2 doses of vaccine plus a booster. This is the first population wide study to document the value of vaccination to Mother and Baby! Another well-known benefit of maternal vaccination is transfer of Mother's SARS-CoV-2 antibodies through breast milk for months after childbirth.