J and J Vaccine and Guillain Barre Syndrome (GBS)
A rare neurologic autoimmune disorder (GBS) affecting peripheral nerves has been reported up to 42 days after receiving a J and J vaccine dose. GBS is usually more common in males over the age of 50 and occurs following a respiratory or gastrointestinal infection. Patients develop weakness and tingling in the feet and legs, then symptoms ascend to affect the upper body. Very rarely it can follow a vaccination and in 1976 a small number of cases occurred following the H1N1 swine flu vaccine shot. The CDC ACIP Advisory Committee met Thursday to present information about the reported cases, and there is a suggestion that it is occurring more commonly than the usual 1 case/100,000 people per year, making the vaccine a likely contributor. It also is seen in patients with Covid-19 and the overall benefits of the vaccine far outweigh the risk of GBS due to the vaccine.
The J and J vaccines are only a single dose vaccine, and are definitely favored by those that can't or won't miss work. It also is easier to store and make available in rural communities, individual doctors' office, or even home vaccinations that are being offered here in NYC to the home bound. The CDC will study the cases that were reported through their various safety reporting mechanisms and have another ACIP meeting in August. The CDC website and fact sheets have already been updated and can be read.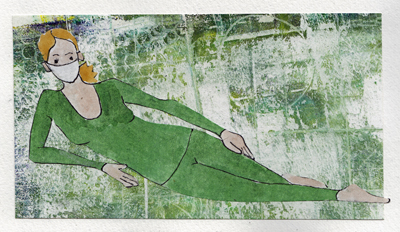 Today there were several reports in Covid newsletters I follow about patients who were now hospitalized with Covid and asking their doctors to give them a vaccination. One man was about to go onto the ventilator when he asked. There was only one response - "It's too late." Everyone is expecting the delta variant to continue to surge, with infections highest where the vaccination rate is low. There was a recent doubling to tripling of the number of US Covid cases per day. In NYC the delta variant in samples collected July 10, and sequenced since then, is now 75%. The infection rate in NYC was 0.5% at the beginning of the month, 1.1% at the beginning of last week, and 1.8% at the end of the week. Be careful and stay healthy.