Vaccine-Induced Thrombotic Thrombocytopenia
Evaluating a Headache After Vaccination with J and J and AstraZeneca Vaccines: The rare clotting adverse event after vaccination with one of the two adenovirus viral vaccine vaccines is now being called vaccine-induced thrombotic thrombocytopenia (VITT). I am a retired hematologist and have evaluated many patients with blood clots - venous and arterial - and in general the development of a cerebral venous sinus thrombosis (CVST) in very rare. But the US Vaccine Adverse Effect Reporting System (VAERS) for monitoring vaccine safety demonstrated 6 cases, all associated with low platelets. This combination resembles a heparin side effect known as Heparin-Induced Thrombocytopenia (HIT) - in which patients on heparin develop antibodies to a complex known as heparin-PF4 (platelet factor 4). I spent the first 15-20 years, after my training, in a lab purifying, characterizing, and then measuring PF4. Since then a test has been developed to measure the heparin-PF4 antibodies in patients with HIT. Now these tests are found to also be positive in patients with VITT following the J and J and AstraZeneca vaccines, even though none received heparin
Some Risk Factors for any Clots: OCP, pregnancy, malignancy, smoking, immobility, inherited disorders.
Risk Factors for CVST: J and J Vaccine: 1 per million; Covid-19 4-20 per 100,000; pregnancy 10-20 per 100,000 deliveries; oral contraceptives 2.7-40 per 100,000 people, and General Population: 3-15 per million per year.
The risk factors and incidence for development of CVST shows that the incidence for VITT is substantially less than the incidence in patients with Covid-19. With the current data, the risk vs benefit ratio warrants continuation of J and J vaccinations, maybe to select age groups.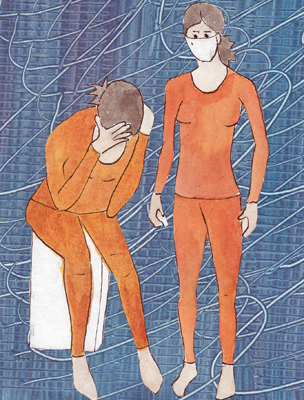 The CDC-FDA still have a PAUSE on J and J vaccinations - to carefully study any patients that may develop clots within 3 weeks after their vaccination that was before the pause. Patients who develop severe headaches, abdominal pain, leg pain or shortness of breath should see a physician and have an evaluation - including a platelet count and a PF4 antibody test. Under no circumstances should patients with clot, low platelets, and a positive PF4 test be treated with heparin - instead consult a hematologist for alternate treatments.