CAUTION,,,,
There are recent reports of axillary lymph node swelling on the same side as your Covid vaccine injection, and this occurs in up to 16% of patients (men and women), and with both Pfizer and Moderna vaccines. After an injection, the adjacent lymph nodes can be enlarged as the first part of the immune response. The lymph nodes may also be tender. There are changes being seen and reported on mammograms, on the same side as the vaccination, when they are done right after Covid vaccination. It is now advised that you delay a routine mammogram until 6 weeks after your 2nd dose of vaccine.
However, if there is concern that a patient may have breast cancer or recurrence of breast cancer, the mammograms and further studies should be done. The New York Times has a recent article about this vaccine-related axillary lymphadenopathy, and some mammogram centers are now checking to see when the patients' vaccinations occurred, and telling them that a mammogram done that day may lead to further evaluation if they don't want to delay a routine mammogram for 6 weeks. See Below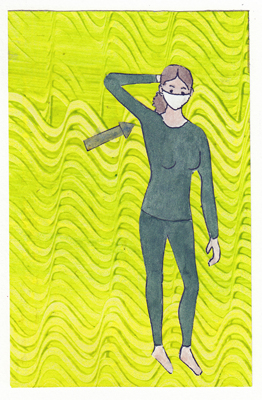 I don't ever remember a warning like this with other vaccines, and in my personal experience the 2nd Shingrix vaccine dose against Herpes Zoster ("shingles") caused the worst local reaction I've ever had with any vaccine. It is probably reasonable to delay a routine screening mammogram for 6 weeks after any vaccine given in the deltoid muscle of the upper arm.