New CDC Guidelines for Quarantine After Covid-19 Exposure
There are new CDC guidelines for quarantine after a Covid-19 exposure. They used information from studies which looked at when patients became symptomatic after exposure, and the duration of virus shedding, after a known exposure and infection. The risk of passing along an infection will still be low (but not non-existent), if people have to return to work. For those that can stay at home, 14 days is still a good plan. Here are the two new options:
1. Those without symptoms after exposure may return to normal activities (if asymptomatic) after ten days.
2. Those without symptoms, and a negative test (done before the end of their quarantine period), may resume normal activities after 7 days.
All public health measures should still be followed: mask, social distancing, and hand washing. Read Below: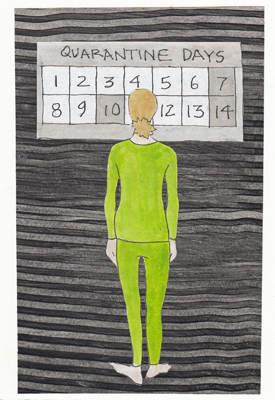 I plan to watch the FDA Pfizer Vaccine Committee Hearing on Thursday (9-6), and hopefully will be able to add lots to the information we already have. There is a full report from the data analysis on the website (greater than 50 pages of data and tables) and the meeting agenda. In addition, there may be more info on when we can get more Pfizer vaccine since our government only ordered one batch and contracts were signed with many other countries in the interim. The US will probably have to wait until next summer for more, after we get the 100 million doses from the original contract that was signed. These reports re: the US not ordering more when offered during the summer are in multiple newspapers and press releases as of this week.