CDC Recommendations for Vaccine Distribution
Demand for vaccinations will exceed supply until the first quarter of next year. In preparation for vaccinating the population, the National Institute of Sciences, Engineering, and Medicine established a scientific advisory group to develop a distribution plan for consideration by the CDC.
The CDC Advisory Committee on Immunization Practices (ACIP), an independent scientific advisory board, met on Dec 1st, to discuss these recommendations and approve a plan to begin vaccinations as soon as the Pfizer and Moderna vaccines receive an Emergency Use Authorization (EUA) from the FDA. I listened to the presentations and discussion, and at the end of the meeting the ACIP recommended that health care workers and staff and residents in long term care facilities (LTCF) should be vaccinated in Phase 1a. After the CDC Commissioner approves the plan the vaccines will quickly be disseminated to States and Territories based on their adult populations. Each State will be in charge of the developing the system to vaccinate the selected groups.
Read below: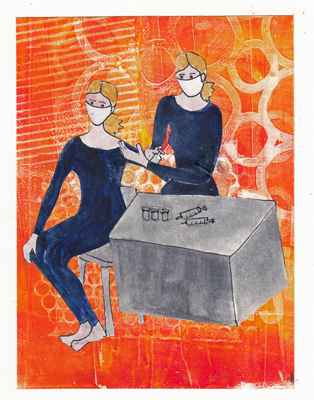 Data Presented: There were 245,000 infections and 858 deaths in Health Care Workers at the time of their deliberations. Patients in LTCF accounted for 6% of cases (approximately500,000) and 40% of deaths (70,000). The ACIP discussed sub-priorities in each group based on their actual risks, and even wanted the workers in facilities to be vaccinated on a schedule that wouldn't effect their daily work force if immediate symptoms from the vaccine kept them home for a day. Approximately 40 million doses, which will vaccinate 20 million people, may get the vaccines before the end of the year.
Still to be discussed, Phase 1b will probably essential workers (police, fireman, bus drivers, train conductors etc) and Phase 1c may be adults over the age of 65 and people with high risk co-morbidities. I assume these decisions will be presented and discussed at subsequent ACIP meetings like the one I watched this week.