Happy Dance #2
Happy Dance #2 - Celebrating the preliminary information about the Moderna Vaccine.
I first heard of the National Institutes of Health NIAID/Moderna Vaccine in the Spring, just after the team had created the mRNA. I was fascinated that a piece of messenger RNA could be made from the Sars-CoV-2 spike protein and injected into animals, and then humans to stimulate our own cells to make the spike protein, which could then turn on our immune response. The preliminary announcement by Moderna on Monday was very exciting and I'm sure that everyone has heard that the efficacy was 94.5%. Read Below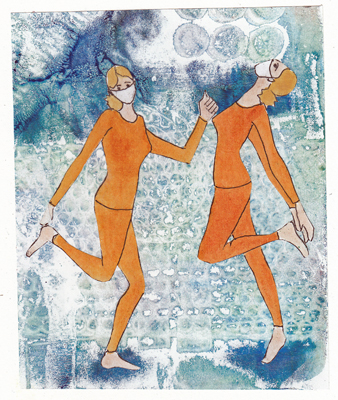 All of the 30,000 volunteers are already enrolled in the clinical trial, and the Data Safety and Monitoring Board (DSMB) was allowed to open the blinded study when a specific number of volunteers had developed symptoms of Covid-19. They did that last weekend and found that 95 volunteers were Covid-19 positive and 90 of them were in the placebo group. Additionally 11 cases of severe Covid-19 were in the placebo group and none in the vaccinated group. The reported adverse symptoms were fever, headache, arm pain, joint and muscle aches - and were transient after the 2 vaccine injections 28 days apart. Volunteers: 37% of the enrolled group are people of color, 42% are high risk, with comorbidities or are 65+.
The DSMB will next look at the data after a total of approximately 150 cases of Covid-19 occur. The FDA requires that every vaccine must be >50% effective to apply for FDA approval, and 50% of the volunteers must have been followed for at least 2 months after their second injection. Everyone hopes that it will still remain >90% effective with no cases of severe Covid-19 in the vaccinated group. If approved, the Phase 3 Clinical Trial can be stopped at that point, although the vaccinated volunteers will be followed for a total of 24 months to make sure it is safe.
All of the data will be reviewed and analyzed, and then an FDA application for an Emergency Use Authorization can be filed. Once it is approved, the placebo group will be vaccinated and production will be ramped up for distribution. This mRNA vaccine, unlike the one from Pfizer, requires long term storage at -4 degrees F, but can be kept in a refrigerator for up to one month.