Can Schools Reopen Safely?
How many New York City Schools Will Reopen?
New York City has < 1% positive Covid-19 tests each day, so the virus is being controlled. And yet we worry about our students returning to school and getting infected. There is not enough space for social distancing, and in older schools the ventilation may not be adequate. I volunteer in a school in the Bronx that was built in the late 1800s.
Will there be an adequate number of teachers who are willing to return to the classroom, especially if they have underlying health risks or are in the vulnerable age groups? This morning on NPR teachers were saying they really want to be with their students, but they have to feel safe. Students and teachers will be required to wear masks all day, to remain socially distanced, and wash their hands frequently.
Because of the lack of space, students will attend schools in smaller groups, perhaps 3 days one week, and 2 the next - and the other days will be virtual learning. Earlier this summer 70% of schools did not have a full time nurse. Many children in the public schools receive breakfast and lunch while at school. They will eat their meals in their classrooms so students will not be in large groups in the cafeteria. On the days when they are not in school, many students will need city-sponsored child care because they have parents who are essential workers. None of the plans are confirmed, and my grandchildren may not hear about the final plans until several days before school opens. Read More Below.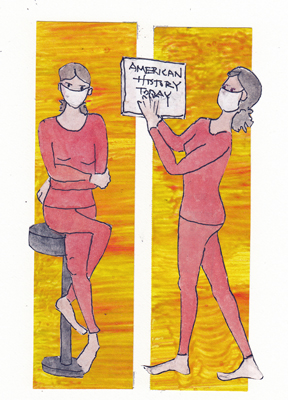 It would be wonderful if there were very cheap "at home" Covid-19 virus tests that could easily be done in the morning before students and teachers leave for school. If positive, they would stay home. There is good scientific data on these tests, and there is now a ground swell to get the FDA to give Emergency Use Approval (EUA) to them. If approved, manufacturers can quickly make them available. I hope to gather more information on these tests, which are similar to home pregnancy tests, later in this week. Current tests that take many days to get results can't help us control the epidemic.