Will We Really Have a Vaccine for Covid-19 Soon?
I recently wrote about the 3 phases of Clinical Trials that must be completed to apply for FDA approval. The mumps vaccine was created in 4 years - and set the record for vaccine development. The average time is 7-10 years. There are 150-160 vaccines being developed right now and 30 vaccines are in the pipeline.
Read more below collage: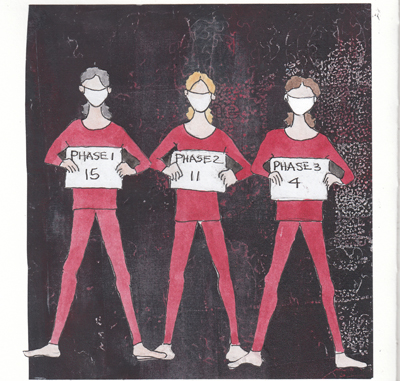 Phase 1 trials are small - to test different doses and assess the safety of the vaccine. There are 15 vaccines in phase 1 trials.
Phase 2 trials have hundreds of volunteers and safety is still being assessed. But vaccine effectiveness and antibody production is measured in the vaccinated vs placebo groups. There are 11 vaccines in Phase 2 trials.
Phase 3 trials still assess safety, but the effectiveness to prevent Covid-19 in 30,000 or more volunteers will be compared to a placebo group. There are 4 vaccines in phase 3 trials: including one UK (Oxford), 2 Chinese, and 1 Australian company (Data taken from NYT vaccine tracker).
The US front runner vaccine is from Moderna-NIAID/NIH and it will begin Phase 3 on July 27th. The Oxford University/AstraZeneca vaccine is being supported in part by the US Gov't and both will be available in the US after approval. The number of Covid-19 cases and deaths are still in exponential growth in the US and companies are going to develop millions of doses for some of the vaccines, even before FDA approval is complete. This is a huge financial risk for pharmaceutical companies and we can only hope that distribution will also be discussed and planned before approval is granted. Until then we need to learn how to live safely with the virus.