Drawing at Museum Exhibits February 2020
On Thursday March 12th New York City began a shut down due to the community spread of Coronavirus. The period of containment was over and as early as March 2nd we knew that a 50 year old patient in Westchester, with no history of travel or exposure to known COVID 19 patients, was evidence that we now had community spread of the virus and were in the beginning of an epidemic here in the US. Our governments inability to prepare for this and very limited test availability has substantially increased the infection rate.
My husband and I are both retired physicians and spent our lives dealing with isolation, both to protect us and reverse isolation to protect our sickest patients. We made a decision right then that we would begin "social distancing," at first by clearing our calendar for March and avoiding public transportation. The deaths in China were very high for those over 65 and we are both in an even more vulnerable age group. As these two weeks passed, we limited our time outside our apartment even more and now take short solitary daily walks for fresh air and spend the rest of the time in our apartment. My husband walks in Central Park and I walk in our neighborhood along uncrowded streets.
The drawings posted today were from before March 1st: from USK at the Met in the SAHEL exhibit and with a friend at the Whitney at the Vida Americana exhibit.
Sahel at the Met: A wonderful large sculpture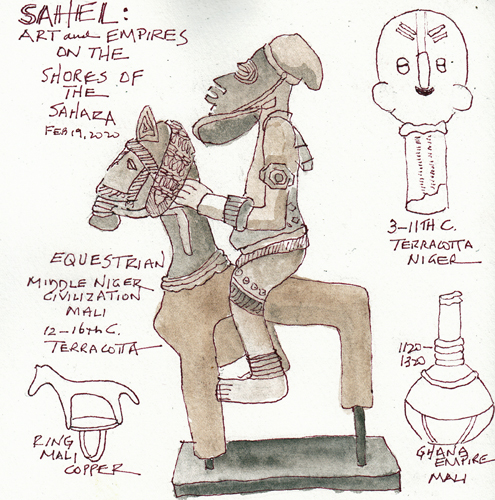 Vida Americana at the Whitney - A large wooden sculpture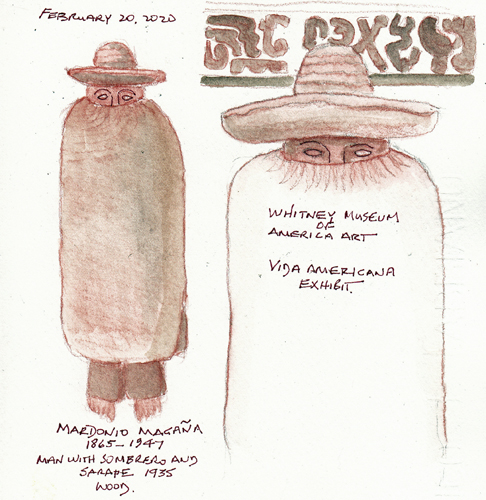 Stay safe and stay healthy! Read lots. I do one quick drawing on each walk and don't finish it until I come home.