Juilliard Concert and Grand Jury Summons
Concert Evening: My husband and I went to a wonderful Juilliard Concert last evening. The Historical Presentation Graduate Students ( Juilliard 415) and the Juilliard Orchestra, performed on the same stage for the first time. We love to go to the Classical and Jazz Concerts performed at Juilliard and the ticket prices are terrific. I quickly sketched the conductor Nicholas McGegan, who was the most active conductor I've ever seen, and several musicians close to him.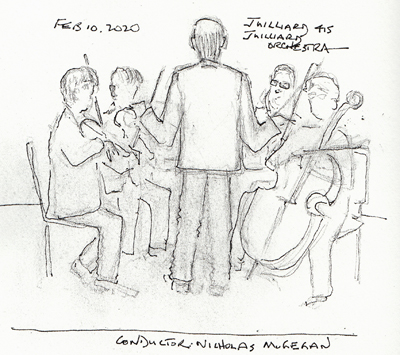 Grand Jury Summons : Two weeks ago I received a summons for the Manhattan Grand Jury. If selected you meet either every day for 2 weeks or half days for one month. I thought for sure that I was over the age limit, only to learn that they have no age limit, and in fact my year of birth was printed on the summons. They were seating 2 Grand Juries (46 jurors total) and jurors are selected randomly by cards pulled from a drum. For the second time in the last decade I was not one of the randomly selected jurors - making me especially happy because I currently have a flare of low back pain. This young woman sitting next to me was selected after I sketched her.