More Paris Sketchbook Pages: October 24
I am very slow getting sketchbook pages posted from our Fall Paris Vacation. I love Degas, and as my husband and friends were going through the D'Orsay, I stopped at the Degas sculptures - and sketched. The patina on this wonderful sculpture was very unusual, and I'm not sure that I captured it in paint.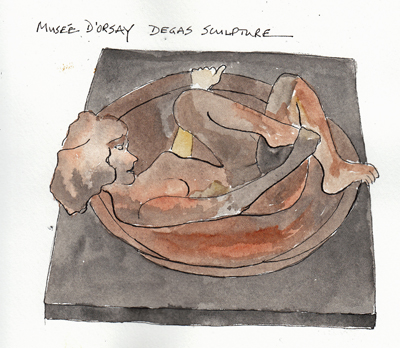 I vividly remember loving his sculptures of dancers at the Metropolitan Museum of Art when I was a college student, in part because most of my life I have taken dance classes and in college was a member of the dance group
After the D'Orsay we walked along the Blvd San Michel to Luxembourg Gardens and the Sorbonne. A wonderful day!