My Newest Watercolor Sketchbook (#64)
I make my sketchbooks for general drawing and this is my newest one. When I started drawing again in 2006, and wanted to learn how to paint with watercolor, I couldn't find any reasonably priced sketchbooks with 140lb watercolor paper. I used several types of inexpensive sketchbooks until #18, including the landscape format one by Moleskine. I finally took a one weekend "cased-in" bookbinding class in 2008 and have made my watercolor sketchbooks since then.
Paper: Fabriano Artistico 140 lb Soft Press Endpapers: Canson Mi Tientes colored paper
Signatures: 6, each with 2 folios for a total of 48 pages.
Cover: The cotton fabric was dyed using a modified shibori technique and then fused to 45 gram Thai Mulbery paper.
I make pen pockets, and rotate them among my sketchbooks, so I can easily carry a pencil, eraser, and several Pigma Micron Pens while sketching.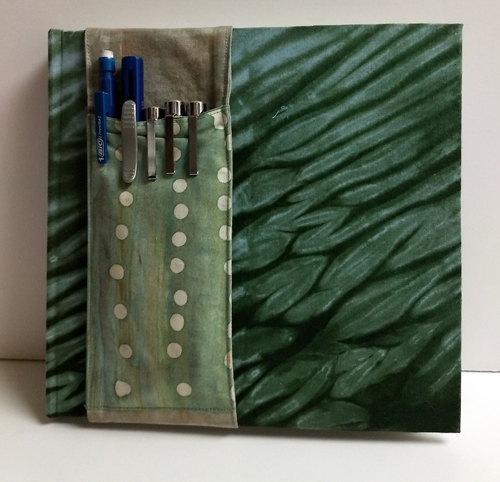 The open book showing the dyed fabric used to make the bookcloth.