Bookbinding 101 - Long Stitch Leather Books
I am sharing my knowledge of bookbinding with a friend, and this month we each made 3 leather long stitch books. I only made two previously, in 2013, and we had to work out many of the details re: making a jig and then punching the leather. I bought 8 pieces of shoe leather scraps for about $1 each and only had used 2. We split the other 6 and each made 3 books. The maximal size possible was 7" high.
I used Mohawk 24lb extra-white paper that I purchased on sale at Talas - 100 sheets for $5 - and was delighted that the only pen out of a combination of ballpoints and drawing pens that bled through the paper was a Sharpie. They were 8 X 10" and grain short.
These are my 3 books: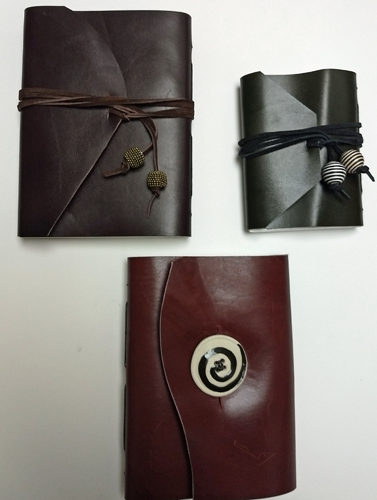 These are the spines - photographed while wedged between 2 bricks wrapped in plastic as bookbinding weights.