People Drawing People
I am taking the 5 week Sketchbook Skool class called People Drawing People. I go to figure drawing, both nude models and dressed models, and I often draw people on the bus, or subway, restaurants and concerts. I feel comfortable drawing in these settings. But I find it very difficult to draw bodies who are really moving - i.e. head, torso, arms, and legs, all at the same time. For at least a year I've been doing line of action drawings from photos of moving people, but I still lack the confidence to draw someone live who is running, dancing, etc.
Today is the beginning of week 2 in the SBS class and there are 4 demos of artists drawing people in constant motion. Just looking at the class demos this week brings out Mildred - my inner critic. For my own practice, I took a number of photos the last time I was on the Lincoln Center Plaza - of people walking, running, or standing still for a moment in front of the Metropolitan Opera. And these drawings, 1-6, are from those photos. The final 2 drawings were done in restaurants, i.e. live direct observation.
People in Motion: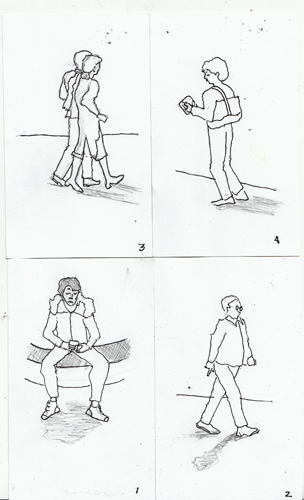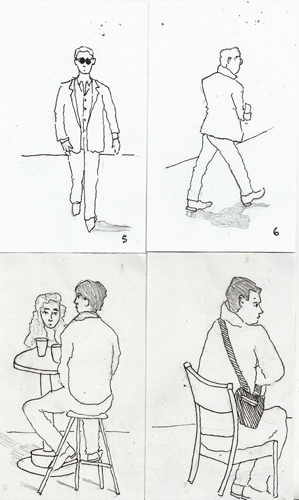 My Next Deliberate Practice: I will try to draw the constantly moving models in videos from class this week. And then I need to go into Central Park and try to draw people in all kinds of motion. Yikes!