FIGUARY: February Daily Figure Drawing Challenge
Love Life Drawing and Croquis Café, both You Tube channels you can subscribe to, sponsored a daily challenge this month. Kenzo gave 4-5 minute lessons at Love Life Drawing, and Larry Withers introduced the model session at Croquis Café, each day. The models posed for three 1 min, two 2 min, and one 5 minute pose. Obviously you could pause the video for as long as you wanted, but I tried to finish the drawing in the allotted time, and usually just had to pause for another minute with the 1 minute poses. These are a few poses I really loved drawing. Kenzo said that all of the videos would remain indefinitely.
In the first images, I made a quick sketch in pencil and then finished it in ink after the time was up. In the second images I sketched in pencil, and then darkened a few lines after the sketch was done. Even if I paused the video, I never took more than 20 - 25 minutes for all 6 sketches, probably because I used small scrap papers for all of them. This was so enjoyable that I only missed several days so far.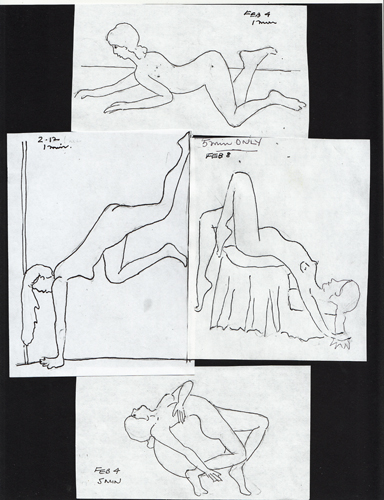 Figuary B