Visit to London: Part 4
I still have ephemera and a few photos to add to my London Travel Sketchbook. But I decided to end my blog entries from our trip with two other types of pages that I usually include.
Two X Two inch Grid: I regularly set up one or two pages to create a set of very quick paintings of something that I liked for each day. Several of these are from restaurants during dinner, others are from locations we visited, and two are from purchases I made. The terrace house door was from the place we stayed with our daughter and her family in 2006-7, and we enjoyed walking down the street past the house to relive those wonderful memories with our family.
Some Daily Notes: I added a chart to write some notes for each day of our trip, and also added icons for the weather. This is one of the three pages as an example.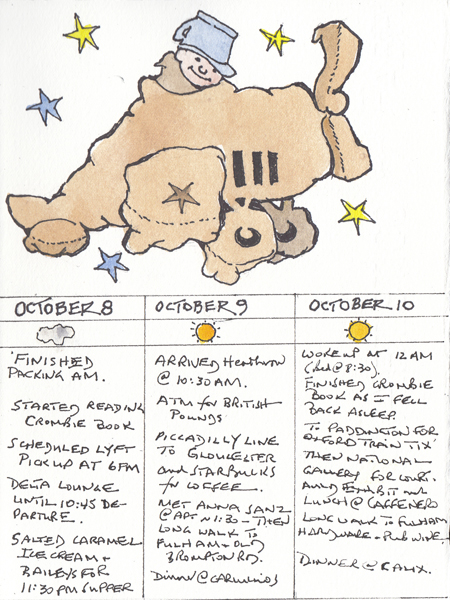 Inspiration: I collaged this illustration from Gourmet magazine to the last page of the sketchbook. It is from many years ago, and I decided to add it as an example of a wonderful painting of a place. My husband and I went to Europe for the first time in January 1970, spending a full 2 weeks exploring the City and the theater scene. Piccadilly Circus was so memorable to me that I saved this for almost 20 years until I refound it and made it part of our visit this year.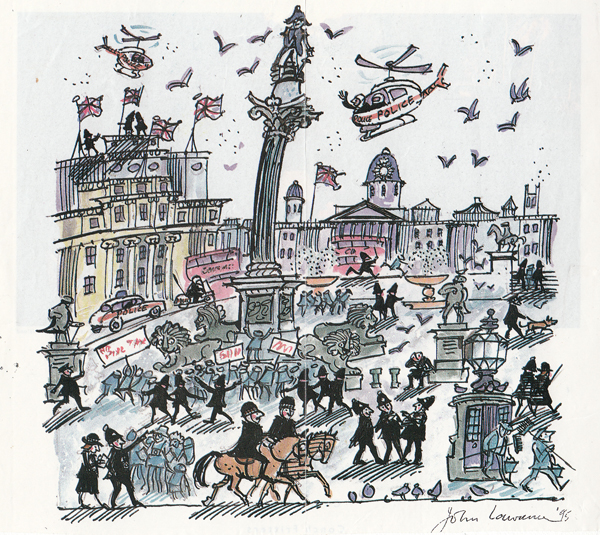 The artist's signature says John Lawrence 1995, and I just learned that he is an English Illustrator born in 1933.