Action Drawings from Photos: 2018
I am still practicing drawing figures in action from photographs. These are my "art after breakfast" drawings, first started during my 6 weeks with a fractured wrist on my domiant hand, and now done because they are a very quick way for me to draw something almost everyday as I am finishing my coffee.
My grandchildrens' summer camp posts 100s of photos every day and these were ones I sketched. Each one was sketched on a quarter sheet of scrap copy paper. I selected these poses from those I sketched and collaged them to a sketchbook page. The one with the sunglasses is my 15 year old grandson Henry.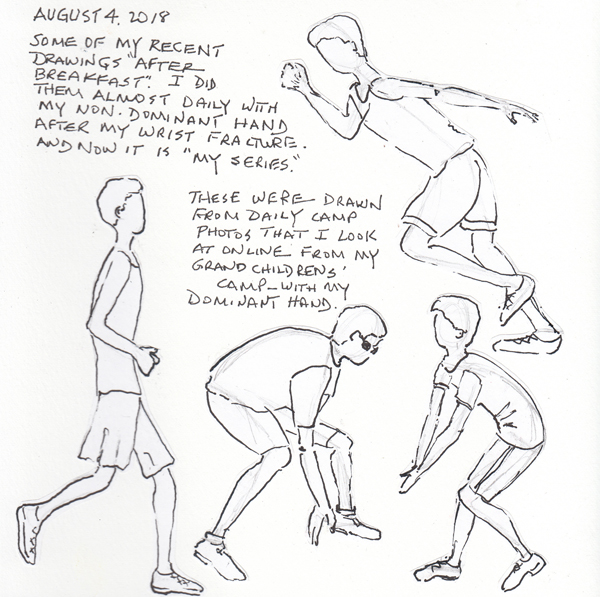 I then remembered that I had a book entitled The Human Form in Action and Repose by Phil Brodatz and Dori Watson (1966). The next two sketchbook pages are collages of drawings from those photos. The pencil lines are my quick gesture line, and then I draw the figures in ink.
I loved the figure photographed in multiple rapid action shots while jumping rope.
I'm busy cooking for 19 for Thanksgiving, and was happy that I had this blog post waiting for such a busy week.
HAPPY THANKSGIVING TO ALL WHO CELEBRATE OUR AMERICAN HOLIDAY!